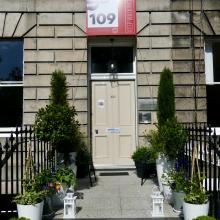 'The Art of Hospitality' is a refreshing idea of what the Fringe could be, outside the hands of the big operators and showcasing the creativity of Edinburgh's people.
Michael Worobec, an entertaining and talkative host, welcomes the visitor into his home on Claremont Crescent (Venue 109), a beautiful Georgian townhouse over three floors, and is on hand to provide first-hand commentary on his life, inspirations, and art practice as well as musings on the themes of architecture, nature, tourism, and much more.
This selling exhibition spans 20 years of his work and includes paintings from the Fragments, Afro, Tattoo and Sirens series.  Michael's work deals with themes of identity, self-expression, protest, society.  Many of the works incorporate a portrait head (perhaps an iconic image from art history or society, such as Michelangelo's David, Malcolm X, Marsha Hunt; perhaps an unknown person), meeting the viewer's gaze with an intriguing expression. 
From this central image the artist builds up a sort of halo of accretions of associated ideas: motifs of flowers and foliage, geometric designs, pop-cultural references, and logos connected with protest movements of the recent past.
The results, achieved via stencilling, layering, repetition of motifs, are not just highly colourful and decorative, but also profoundly about humanity.
If only all Edinburgh residents were as creative and hospitable as Michael Worobec, the old Fringe could happily be dispensed with entirely!—Caroline Roussot