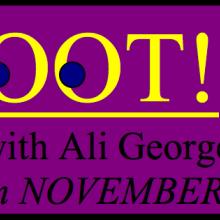 The clocks have changed, the squirrels are thinking of going into hibernation, and the 14th annual British Sausage Week has begun, all of which can only mean one thing – November is upon us.

You're doubtless already celebrating the wide range of exciting sausages currently available in Britain by camping outside Crombie's (97 Broughton Street) every morning for your daily fix, but what other cultural delights await the residents of Spurtlopolis this month?

We will endeavour to remember, as ever, the 5th of November – the day when some guy failed to blow up the Houses of Parliament in Olde London Towne by setting things on fire. The biggest event will be at Meadowbank Stadium from 6.30pm. Remember to lock up your pets, as they are terribly irresponsible with sparklers.

On 8 November, stand-up comedian Andrew Lawrence will be at The Stand (5 York Place). Famously, he is one of British comedy's best-kept secrets, known only to Radio 4 listeners and other people who go to see his gigs. If you haven't heard of him yet … well, you have now. Why not complete the thought by going to see him!

On 10 November there's a veritable treat in the form of Hot Chocolate live at The Jam House (5 Queen Street). Yes, that Hot Chocolate – owners of such hits as 'You Sexy Thing' and 'That Other One They Do, You Know The One' … The fact they are still touring is a tribute to someone or something.

Meanwhile the Out of the Blue Drill Hall (36 Dalmeny Street) continues to bring diversity to the shores of the Walk on 12–13 November with an Aerial Hoop course. You too could be like that BBC ident from a couple of years back, with all those gymnasts floating about like beautiful, leotarded birds. According to the website, the course will be pitched at a general level, i.e. it is for those people who have at least 6 months' regular attendance of static aerial classes under their belts. Well, it takes all kinds of definitions of 'general' to make a world.

No such in-depth training is required to attend Scotland's History Festival, being held at different venues from 17–30 November. Events of geographical closeness include the 'Who Did You Think You Were' roadshow, which is visiting both Stockbridge (11 Hamilton Place) and McDonald Road (2–4 McDonald Road) Libraries; whilst Axolotl Gallery (35 Dundas Street) hosts Jock Tamson's Bairns, a photography exhibition showing the lives of people who have emigrated to Scotland.

Cake now, and on 19 November the Merchant's Hall (22 Hanover Street) hosts Cupcake Couture, a fashion event to raise money for the NSPCC (which is not to be confused with the popular Edinburgh blog of the same name). This starts at 2pm and tickets are a snip at £35.

From that point on you'll be starting to notice distinct hints of Christmas, which officially kicks off on 25 November and continues unabated until Hogmanay. With that in mind we suggest you have a thermos of eggnog at the ready. Apparently, there's booze involved, which'll take the edge off all the glitter and reindeer and whatnot. Probably.