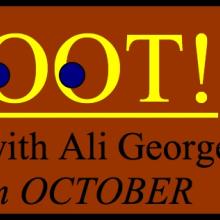 'It's going to snow this October,' a friend said cheerily the other day. 'I read it in the Metro.'

We can only imagine the repercussions for guisers on Hallowe'en – ghosts camouflaged against the snow will be able to jump out on unsuspecting passers by to devastating effect, demanding oranges and monkey nuts with menaces.

There are, however, a series of events across the city before the 31st to help people prepare for the worst – in terms of both weather and young people demanding you give them stuff lest they egg your front door. The Edinburgh Mountain Film Festival, for instance, contains lectures and films on how to survive tough mountain climbing conditions, and there are bound to be some transferable tips in there. It runs from Thursday 6–Sunday 9 October and the full programme can be found here.

Meanwhile Hanover Healthfoods offer advice on appropriate sustenance so you can wait out the onslaught of guisers and snow wherever you may be. They are holding a day of talks at The Merchants Hall (22 Hanover Street) on Saturday 8 October between 9.30am and 5.00pm. There you can look forward to tastings and the divulging of 'superskin secrets'. Tickets £7.50.

The storytelling comedy of Electric Tales will keep you warm throughout the month, or at least on Tuesday 11 from 7.30pm at the Scottish Storytelling Centre (43–5 High Street). Meanwhile the 2011 West Port Book Festival runs in various venues from Thursday 13–Sunday 16 October. Here's the lineup.

The Royal Botanic Gardens (20 Inverleith Row) have a lot going on for autumn including several events centred on mushrooms. However, if you own a small person and need something to do with them in the October break, Live 'n' Deadly at the Garden is probably your best bet. Inspired by the show on CBBC, kids are encouraged to solve a series of puzzles, each more fiendish than the last, to uncover a wildlife crime scene. This runs from Monday 17–Thursday 20 October.

The Writing on Your Wall exhibition continues at Edinburgh Printmakers (23 Union Street) until Saturday 29 October. The history of polemical, iconoclastic and satirical printmaking never looked so good. Plus there's a free catalogue on obsolete and historical equipment to help you dazzle those surprise guisers (suguisers?) with knowledge before they relieve you of your small change and/or sweets.

Another book-related event, this time at the Out of the Blue Drill Hall, is the 15th Independent and Radical Book Fair. Organised by online shop Word Power Books, this alternative book festival will feature talks, film screenings and a huge array of books for sale. It opens on Wednesday 26 at 7.00pm and runs until Sunday 30 October, with free entry.

And finally, a word of warning. Steer clear of Market Street, as all this month Edinburgh Dungeon present The King of Scare … STINGY JACK! We aren't sure whether this is stingy as in tight with money, or stingy like a wasp might sting you, but either way it's terrifying and not worth the risk of walking along that way alone.