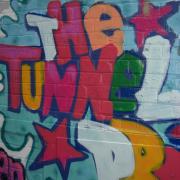 Young locals– under the expert guidance of graffiti artist 'Elph' – are transforming the dreary entrance to Scotland Street Tunnel.
The colourful temporary revamp, which began during the October half-term break, was a way of having creative fun and publicising the new youth shelter inside the tunnel, work on which will begin within weeks.
(For background see Issues 161, 173–4.) For further news on Broughton activities for young people, see Issue 176 (out on 1 November).