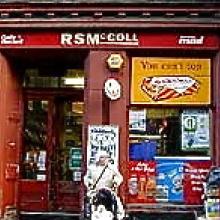 R.S. McColl at the top of Broughton Street will cease trading on 29 May.
Staff – who hope to be relocated within the company network – cite the opening of Tesco at Picardy Place as the main reason for the shop's closure. They say their branch suffered a 50 per cent loss of trade from the day the Express supermarket opened on 20 January (Breaking news 21.1.11).
Customers wishing to continue with newspaper deliveries can contact the R.S. McColl branch in the St James Centre.
Tesco has, from the outset, targeted the local lunchtime trade, and the subsequent failure of its geographically nearest competitor comes as no surprise. It remains to be seen whether other food, grocery and newsagency outlets can distance themselves sufficiently in terms of products offered and customer service to survive.
The diversion of custom from R.S. McColl to Tesco raises serious doubts about some optimistic suggestions made last year that the new supermarket might actually increase footfall along Broughton Street (Breaking news 22.12.10).