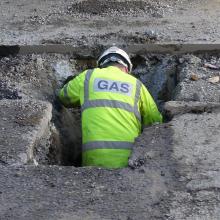 Good news on Broughton Street!

SGN this morning announced that work to replace gas mains has been going well … so well in fact that they now expect to reopen the street about two weeks ahead of schedule.

The London Street–Albany Street section will reopen to two-way traffic from 6.00am on Tuesday 26 February.

The Albany Street–York Place section will follow suit by Friday 15 March, provided works by a separate contractor at the top of the hill have completed.

SGN workers are stepping on the gas, and will again be working in the area over the weekend. Broughton Street traders are already planning a celebration, of which more in our Issue 282 (out on 1 March).
----------