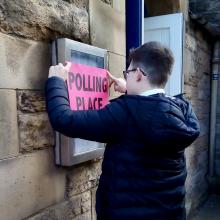 Council staff were busy delivering ballot boxes and making preparations across Ward 12 today in advance of the Leith Walk by-election on Thursday 11 April.
Votes can be cast between 7am and 10pm at your designated polling station, one of nine peppered across the ward.
Eleven candidates are standing. You can read about some of them HERE.
You can vote for as many of them as you wish in order of preference using the Single Transferable Vote system.
By-elections generally attract comparatively little interest from voters, and some observers suspect that the public may have had enough of politics and politicians for the time being.
But it would be a waste not to make your voice heard. Andrew Kerr, Returning Officer for Edinburgh, has encouraged the public to participate, saying, 'We are keenly aware of the importance of democracy as a nation at the moment, with political developments dominating the news.
'It's important that we exercise our voting rights at a local level too though, and I would urge people living in the Leith Walk ward to do just that by participating in the area's forthcoming by-election.
'By helping to elect a new councillor, residents will choose an individual to represent their views and interests throughout the Council's decision-making process, both locally and citywide.'