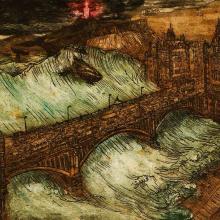 PETER STANDEN AT THE SUTTON GALLERY – REVIEWED BY RHYS FULLERTON
Edinburgh – one hundred years from now.
Global warming has hit, the climate is tropical, whales are swimming down the resurrected Nor' Loch, the Arthur's Seat volcano is active, motorways have become green havens as far as the eye can see and molten lava flows down George Street wiping out everything that crosses its path. Head along to The Sutton Gallery this month and you'll no longer have to imagine it.
This latest exhibition is a retrospective of sorts. The work of artist Peter Standen is full, vast and varied. We travel from the present to the future and spend some time with cats. We weave between apocalyptic etchings, psyched-up felines and beautiful tranquil landscapes.
Let's begin at the end. The etching 'Grand Finale' (above) is part of Standen's apocalyptic series and sees a tidal wave sweeping through Edinburgh as a volcano in the background erupts. Standen started using the presence of global warming in his work before it became fashionable. His work has a wicked sense of humour but underlying it is a serious warning. The etchings from this series present a ravaged Edinburgh, where only the tallest peaks, the odd broken column or – as below – vestiges of an 'Ancient M9' remain.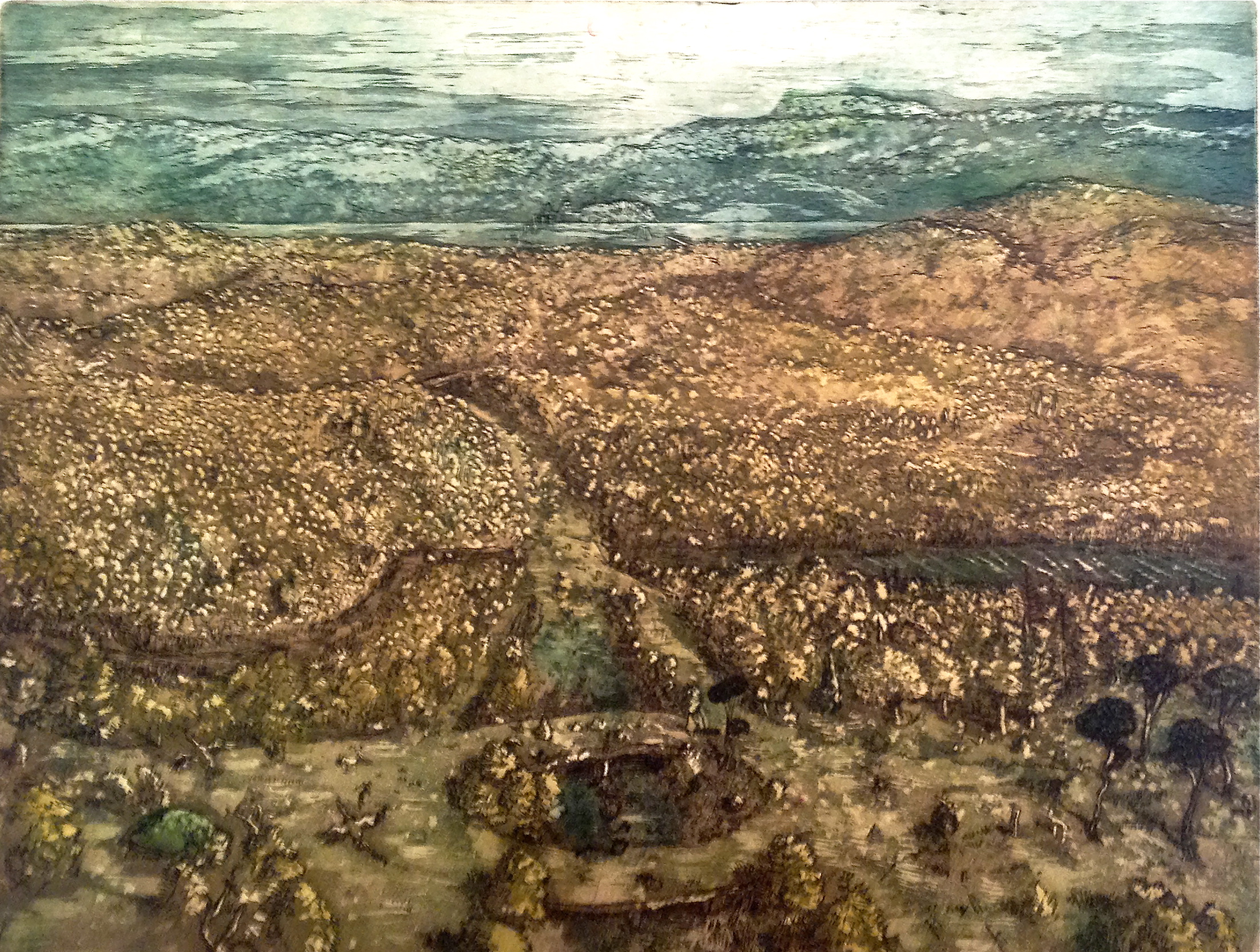 Next, we are taken on a voyage across the ocean where a fallen tree, the last of its kind, is thrown about by ferocious waves. Standen's use of colour in 'Voyage from Arcadia (The Last Tree)' is exquisite. There are so many different shades that it's difficult to count them, but they come together seamlessly and place you in the middle of the ocean where it's impossible not to imagine being dragged away on the tides.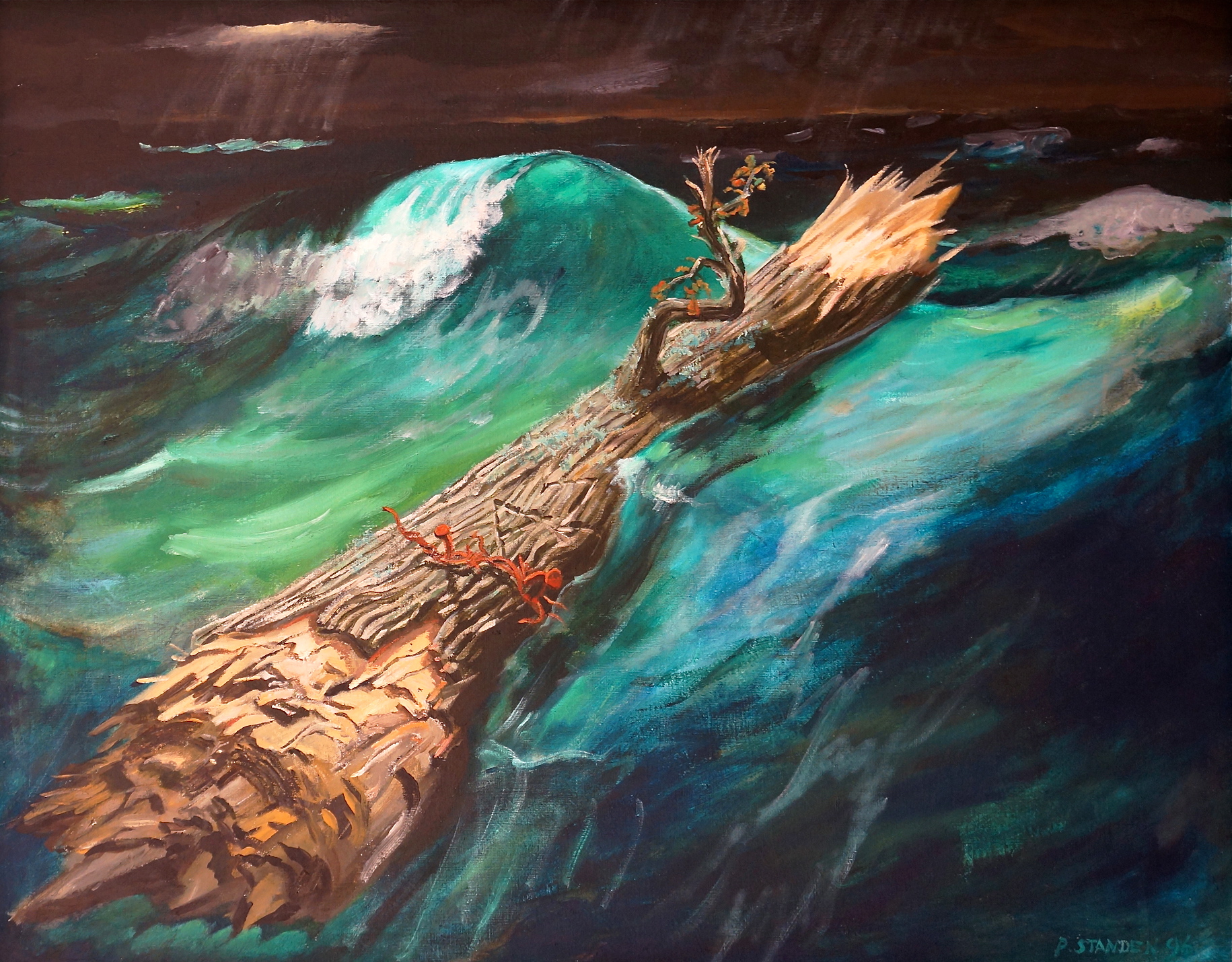 There are only a few paintings which remain in the present. 'Tristan and Isolde' depicts North Bridge, looking towards the Balmoral Hotel. Two swans fly overhead, the road is gridlocked and the light from the sunset is engulfed by the darkness. Again, Standen's use of colour is sublime.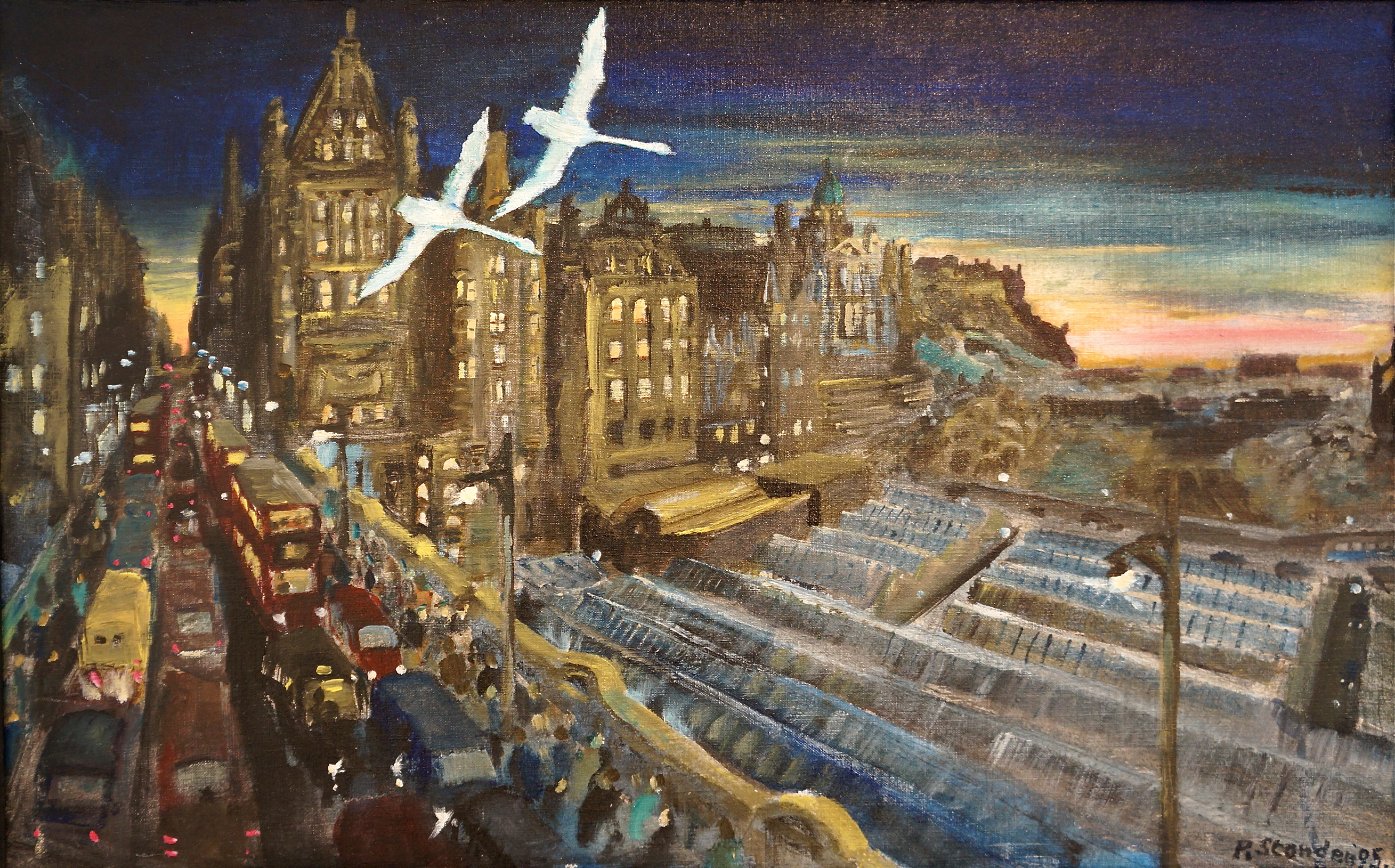 Standen's other love after Edinburgh and the apocalypse is cats. Below is 'That Moth'.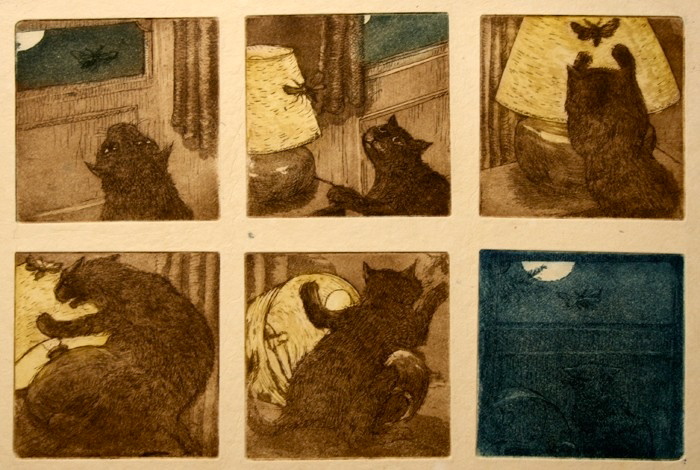 In 'Flat with a View', a cat waits patiently at the door of a ruined town house. It sits and watches the current occupiers as they fish in the lake which used to be Edinburgh, biding its time before it strikes and steals its supper. The flat in question has a fireplace and a front door but no side walls; it does come with a tremendous view, though.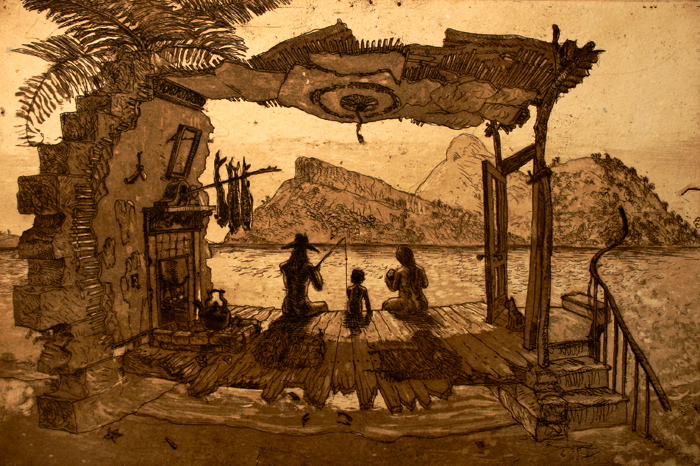 'Pilgrim's Bay, Isle of May' is another set in the present and it is a beautiful painting. It manages to draw you in and place you right at the heart of the scene. You bask in its tranquillity and don't want to leave.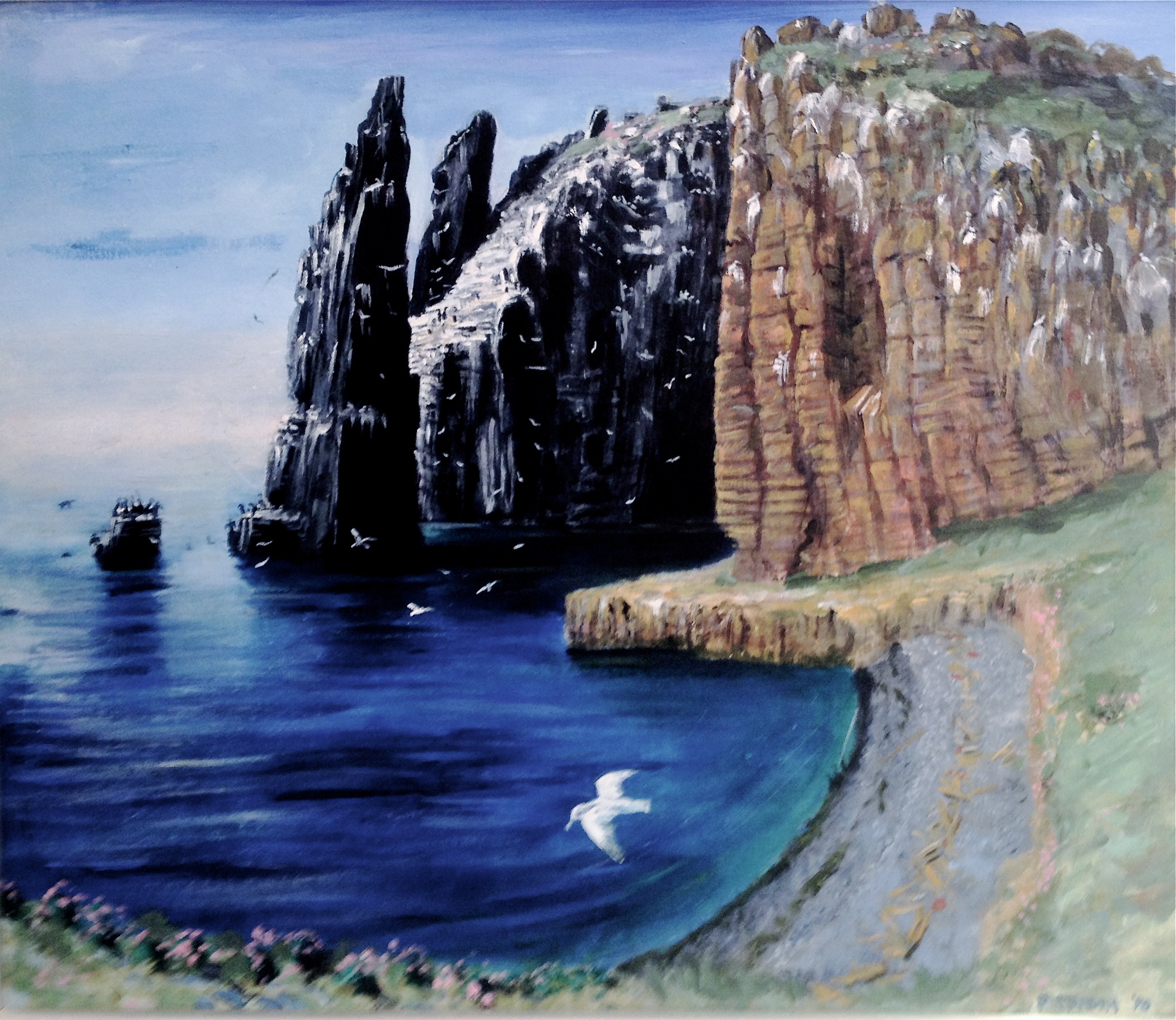 In his paintings, Standing seems to show a real fondness for the environment and the landscapes he's visited, including Edinburgh. This is perhaps why his apocalyptic series was started – he loves the world around him and doesn't want to lose it.
This exhibition doesn't disappoint. It's an enjoyable journey, and you won't regret taking a peek into the future. Let's just hope these visions don't come true, although the 'Ancient Motorways' do represent a vast improvement.
Peter Standen's exhibition continues at The Sutton Gallery until 29 November.