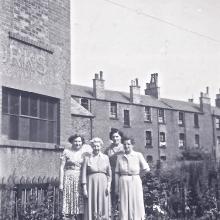 For the last few days we've been challenging Spurtle readers on social media to guess the mystery location shown right. David Sterratt now reveals all.
Long-time Broughton resident Neil McLeod has kindly allowed us to publish this picture of four workers beside the Beaverbank Works office of Thomas Symington & Co., 'Manufacturers of Coffee Essences', on Logie Green Road.
The photo was probably taken some time in the late 1940s or early 1950s. Rightmost is Helen McLeod, Mr McLeod's mother. Second from the left may be a Miss Russell. The identities of the other two are not known.
Examination of maps from the National Library of Scotland archive indicates that the photo was taken from just to the right of today's Edinburgh Furniture Initiative warehouse at the entrance to Logie Mill.
The premises were acquired by George Waterston & Sons Ltd in 1966 to house their expanding continuous stationery operations (sealing wax production was also transferred), and they remained here until 1970.
The tenements in the background are Nos 18–22 Beaverbank Place, demolished to make way for the Vogue furniture warehouse and now the site of student accommodation.
'A cup in a minute'
According to Symington's current manufacturer, quoted here:
Concerns about the side effects of coffee are not new, they were well known to Thomas Symington, one of the leading manufacturers of coffee products in Victorian times.

Thomas Symington established the company bearing his name in Edinburgh in the second half of the 19th century. Initially he was interested in selling coffee products and was extremely innovative, being almost certainly, the first person to develop an 'instant' coffee. Boiling water could be added to the liquid essence of coffee to give 'a cup of coffee in one minute' as their posters proudly claimed. For even greater convenience Thomas Symington supplied tins containing a combination of coffee essence and condensed milk to give the ultimate instant drink. Also in the range were products combining coffee and chicory and a combination of chocolate and milk for an instant drink.

In the 1880s and 90s it was becoming increasingly widely recognised that the caffeine in tea and coffee could cause digestive upset and sleeplessness. Thomas Symington rose to the challenge and developed an alternative drink using dandelion root. Initially a liquid essence in a bottle it was available in 7oz, 16oz and catering packs of 26oz and 40oz. The small size making 25 cups of coffee.

The health benefits of dandelion coffee were promoted strongly in those days with claims that the product was specially adapted for the dyspeptic and bilious plus all the health benefits associated with dandelion. Symingtons products were sold throughout the British Empire and won many medals and prizes for their exceptionally high quality.

Later the liquid product was replaced by the more convenient granules available today which retain all the beneficial properties found in the original essence. Symingtons continued to be sold from Edinburgh until 1975 when the company was acquired by G R Lane Health Products and as manufacturers of naturally based health products dandelion coffee was an ideal addition to their range. Symingtons Dandelion Coffee continues to be available today from specialist health stores.
Interestingly, the Edinburgh & Leith Post Office Directory for 1934–35 lists five other local coffee essence manufacturers, on Albany Street, Beaverhall Road, Couper Street, East Silvermills and Links Place.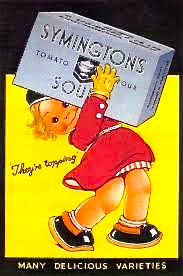 Obscure pea souper
The firm of Thomas Symington is not to be confused with that of William Symington (a relative?), which still exists.
According to their website, William Symington ('a young canny Scot') founded the business in 1827, believing that he could 'transform the diets for creating excellent dried foods that are also convenient to prepare'.
From 1852 onwards he developed a range of dried foods, starting with Pea Flour. This allowed soup to be made by just adding boiling water. It was used by British troops in the Crimean War, and later by Scott of the Antarctic.
Do you have an old Broughton photo or a story to tell? Let us know at spurtle@hotmail.co.uk and @theSpurtle and Facebook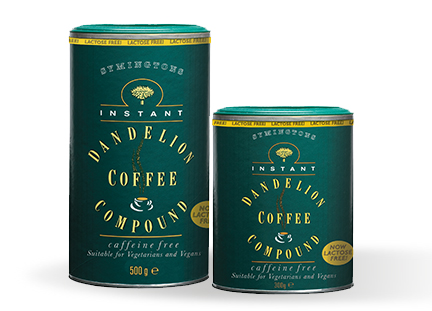 Got a view? Tell us at spurtle@hotmail.co.uk and @theSpurtle and Facebook
------------------------------------
Email from David Sterratt: Since writing this, I've purchased a tub of the fabled coffee essence from Real Foods. Sadly, I wouldn't rate it as my favourite coffee substitute (and I've tried a few); and the rest of the family aren't that struck either. We've described it as 'earthy' and 'sweet'. However, perhaps when made purely with hot milk rather than a water/milk mix it might be quite nice – maybe a bit like Horlicks.