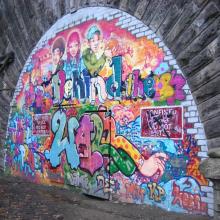 The amazing mural adorning the bricked-up mouth of Scotland St Tunnel is now complete. It was created by local youths under the expert eye of graffiti artist Elph.
But catch it while you can – the infill is due to be demolished early in the New Year when Phase I work begins inside.
Further Tunnel project details follow in Issue 178. See also Breaking News (24.10.09).