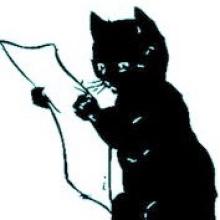 As you read this, advanced copies of October's Spurtle are already knocking at doors in the barony like an AirBnB guest arriving 24 hours too early.
Page 1 begins with a gentle rattling of the key safe and some disapproving tuts concerning pipework. It continues with muttering about money, a threat of kerbside discontent, pessimistic outpourings, and a determination to hold someone to account.
Door shaking and frustrated phone calls follow on Page 2, with news of questionable communications, unsatisfactory squeezes, and rubbish reviews. There are brief items on books, delayed reports, herstoric Scotland, kebabs, trees, emergency delays, and civilised eating.
Page 3 is accompanied by the sound of random door buzzering and shouts up at adjacent windows. Book news and bygone Broughton Street pieces follow, alongside well-tuned overtures, neighbourly discord, crumbs of comfort, and a sodden bus user. Look out also for innovations from Sweden, scammers, e-plugs, and CCTV.
Like crow-bars and police sirens serenading in the dead of night, Page 4 concludes with the mysteries of not-so-Victorian marketing, replacements in high places, six opportunities for those with a spare £2 million, and even more book news bottoming the foot of Calton Hill.
Taken together, it's an unforgettable start to a relaxing holiday/working week, and available imminently from all the usual shops, eateries, drinkeries, and public libraries across Broughton and beyond.
Pick up your copy tomorrow, or, if you can't wait that long, download the colourful pdf from our website HERE after midnight tonight.
YOUR NEWS, VIEWS, HINTS, TIP-OFFS, AND GOSSIP ARE ALWAYS WELCOME. CONTACT US IN COMPLETE CONFIDENCE AT spurtle@hotmail.co.uk