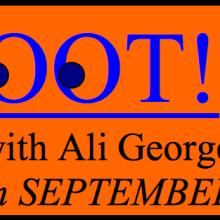 As Alexander Theroux once said, 'September: it was the most beautiful of words, evoking orange-flowers, swallows and regret'.

I don't really know who he is either, but surely we can all relate to those poignant words. If not, one thing sure to bring to mind images of small birds and sadness is a read of this month's 'Oot'. That's the goal, anyway. The predominant focus this month is on music, because there's tons of the stuff wafting about.

For instance, on Saturday 3 September there's An Evening of Guitar Music and Songs at Henderson's Wine Bar (94 Hanover Street); surely the most gloriously vague description you'll come across all month. Alternatively, if you don't like guitar music but you are into banjos (there's one in every family), you could head to Joseph Pearce's (23 Elm Row) on Sunday 4 September to see Banjo Lounge Four play songs on the banjo. The clue is in the name.

However, if you're not into guitars or banjos, perhaps preferring to listen to the dulcet tones of ex-Hollyoaks cast members, The Playhouse (18–22 Greenside Place) host Legally Blonde from Tuesday 6–Saturday 17 September. Or if you'd rather sing along to a backing tape they made earlier, Mathers Bar (25 Broughton Street) runs a karaoke on Fridays from 8.30pm. Total eclipse of the tune, indeed.

With so many musical events occurring locally, is it any wonder that some of Edinburgh's finest bands live in the Spurtleshire area? They are drawn here like an Eeyore to Despair. A brief examination of the electoral role recently revealed that four-fifths of Indie pop band Cancel the Astronauts live round these parts, which means we are bound as a postcode area to attend the launch of their debut single, Seven Vices, at Electric Circus on Sunday 11 September from 7–10pm.

Their cool rock star ways will undoubtedly throw the awfulness of your wardrobe into sharp relief, but help is at hand in the form of a Flea Market at the Out of the Blue Drill Hall (36 Dalmeny Street) on Saturday 17 September. Get rid of all your rubbish clothes and replace them with new ones, not to mention a selection of furniture and bric a brac.

Once you have completed your transformation into Veritable Modern Dandy, you'll be ready for some culture. The Scottish Gallery (16 Dundas Street) has two new exhibitions: Unearthed by David Cass, and new paintings and drawings by Callum McClure. Find a fedora jaunty enough and the subject of their next exhibition could be you.

Having completed your journey to the upper echelons of culture via being painted by an artist, why not head to the Forest Film Festival at the Botanic Gardens (20 Inverleith Row), safe in the knowledge there is a place for you there. The festival includes the UK premiere of Homegrown: The 21st Century Family Farm, described on IMDB as 'an intimate human portrait of what it's like to live like Little House on the Prairie in the 21st Century'. If that doesn't grab you, please note the screening is bike-powered. You wouldn't get that from Conan the Barbarian at the Omni, you bunch of Philistines.