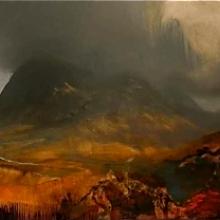 Union Gallery's new exhibition – Landmarks II – has opened, featuring work by (among others) Hazel Cashmore, Dorothy Bruce, Martyn McKenzie and (new to Union) Beth Robertson Fiddes.
Gallery co-owner Alison Auldjo is captivated by Scotland's natural beauty, and welcomes this opportunity to celebrate and embrace it.
'Landmarks II is meant to be uplifting and inspiring,' she says. 'We want it to give people a boost, something to be happy about.'
Cashmore's Caithness scenes depict huge, dark, northern skyscapes lifted by hopeful bursts of colour in the foreground. Martyn McKenzie's bold whorls of paint blend air and earth and water in work which is full of powerful motion. Beth Robertson Fiddes's paintings imbue landscape with character. Her mountains (like Big Buachailles, above) and seaside crags seem almost alive, almost capable of movement and speech, massive participants in an unfolding story.
For this reviewer, there were two highlights. First: Marion Kennedy's intense studies of rain and hill and moss, sometimes scratched and scored, all the more effective for their economy of size and tone. Second: Jackie Mitchell's entrancing Rhu Reflections. It can be enjoyed as an abstract, or as masts reflected in water so liquid, so deliciously cold and deep and rippling that one half expects it to spill out onto the floor.
Landmarks II runs until 1 November. Go in and have a look – there's no obligation to buy, and every chance of expanding your horizons. AM