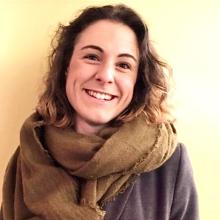 Hi! My name is Giada Canderle and I'm an Italian expat currently living in Edinburgh.
My food blog and a separate series of recipes starting in the Spurtle over the coming months are the result of my growing passion for cooking and baking (and eating!) over the last 10 years.
Food has been in my blood since I was a little girl, with big family meals being one of the fondest memories of my time back home. I see food as a way to bring people together and to express our love and care for others.
It's also a way of expressing ourselves and reconnecting with our culture; in particular for those of us who live abroad.
I have no professional cooking training and would make a terrible waitress, so all of the recipes you find in my posts are simply what I whisk up in my own kitchen as family meals – with a generous sprinkling of tips that I've picked up from years of watching my Mum and Grandma in the kitchen.
My first recipe for the Spurtle will appear here on Wednesday … see you tomorrow!
--------