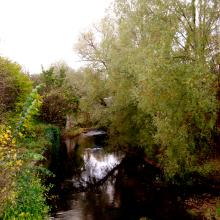 Protestors have written to City of Edinburgh Council's Chief Executive Sue Bruce in a last-ditch effort to stop the felling of mature trees around Canonmills Bridge (see Breaking news, 11.11.11).
We reproduce it below, in full, without editing.
------------------------
Updates
Felling of trees at Canonmills has stopped, at least for now, while City of Edinburgh officials assess apparent anomalies in their own paperwork.
A lone protestor peacefully discussed the matter with contractors from 9–11am this morning, feverishly buying time whilst the letter below worked its way through Council corridors to the desk of the relevant official.
[img_assist|nid=2385|title=|desc=|link=node|align=right|width=164|height=200]In the event, just one birch tree was cut down (see right), in a private garden behind Howard Place, with the owners' prearranged consent.
By 1.15pm, only two rather bored contractors remained, awaiting further instructions.
If the letter we reproduce here is correct, and the trees at Canonmills are explicitly protected, then the ease and speed with which they were so nearly destroyed is a disgrace. City of Edinburgh Council and Lagan's may have some serious apologising to do.
Twitter, 1.30pm
Felling of trees at Cannonmills now halted. Water of Leith Flood Prevention Scheme has not put plans in as part of Planning permission
Twitter, 2.15pm
Many emails about felling of beautiful historic trees at Canonmills Bridge.Calls to council and assured of a pause.Stop floods without this.
------------------------------------------------------------------------
Dear Ms Bruce,

Loss of mature trees west of Canonmills Bridge as part of the Water of Leith Flood Prevention Scheme

I am writing to request that the proposed felling of eleven mature trees by Lagan Construction as part of the above works be halted with immediate effect.

The Water of Leith Public Enquiry Report (2004), posted on the Scottish Government website, states that:
4.50 The trees on the river bank upstream from Canonmills Bridge and adjacent to the gardens to the rear of Howard Street will remain, and will be protected during construction works.

The 2008 Planning Application (Application No:08/04025/FUL) sub-committee report for the works relating to this section of the Water of Leith at Howard Street does not specify the removal of these trees, but refers only to the loss of young trees and states that:
wherever possible trees will be coppiced and pollarded instead of removed to facilitate construction of the flood defences

It was recommended that planning permission be granted subject to conditions in respect of landscaping and trees:
Fully detailed proposals for work to manage or remove trees, planting to mitigate losses and to protect remaining trees, including the following details, shall be submitted to and approved in writing by the Head of Planning before work is commenced on site:-
Details showing trees to be removed.
Details of measures to protect trees that are to remain during construction in accordance with BS 5837: 2005: "Code of Practice for Trees in Relation to Construction."
Details of contractor's compounds, fences and storage, which may affect trees.
The removal of trees and all the measures to protect trees shall be agreed in writing with Head of Planning and shall be implemented before any other work commences on site and maintained throughout the construction period to the satisfaction of Head of Planning.

I wish to protest against the removal of these trees on the following grounds and ask that you enforce a stoppage on the works:
These trees are of significant value and critical importance to the townscape, streetscape and landscape of this Conservation Area on the edge of a World Heritage Site.
There is no public documentation of permission to remove these trees, nor of a tree survey to prove that they may be removed, nor proof that the planning conditions associated with the work have been met.
The statutory process began with confirmation that these trees would be protected but then shifted to their removal without explicit public notification or consultation.
The sub-committee report highlighted that the proposal would result in the loss of a number of "young willow and a sycamore" but the trees to be felled are in fact mature, with a likely minimum age of at least 40 yrs and probably c.70-80yrs.
From the dwg information provided as part of the Planning Application it seems that at least one tree lies outwith the Approved Works red line boundary (ARUP Dwg:PA-027).
Contact was made with the project manager Brian Torrance in October 2011 but a standard reply and link to superseded information has been the only response. Lagan Construction informed only Howard Street residents on 17 November of their intention to bring the planned work on this stretch of the river forward from early 2012 to the week beginning 21 November 2011. Many local residents remain unaware that the trees are to be felled.

In just one week more than 800 people have signed an online petition to protest against the loss of these trees and the number is growing daily.

I request that:
The decision by Lagan to bring the work forward should be reversed
No felling should be undertaken until it has been confirmed that the decision was taken in accordance with due process and that the planning application conditions have been met in full
A full evaluation of how these particular trees in this specific location should be managed in line with the proposed flood defences should be undertaken - these trees can be saved with minimal impact on the flood prevention work
I urge you to take action on this issue immediately before another heavy-handed decision by the City of Edinburgh Council results in yet more negative press, bad feeling and a lack of confidence in this Administration.

Yours sincerely,



CC:
Jim Lowrie
Jenny Dawe
John Bury
Brian Ferguson
[img_assist|nid=2386|title=|desc=|link=node|align=middle|width=471|height=640]