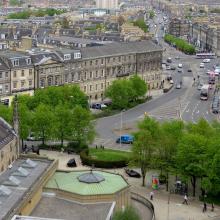 WHETHER YOU LIKE IT OR NOT
Together for Edinburgh is the team behind the 'regeneration' of Edinburgh's East End.*
In a recent circular to Broughton addresses, they describe themselves as 'looking at making improvements to Picardy Place and enhancing the eastern gateway to the city'.
This enhancement is expected to include creating a three-lane gyratory with a building in the middle, narrowing the paved and tree-lined area outside St Mary's Cathedral, and moving the Paolozzis to an as yet undetermined new location (see Breaking news, 16.8.17; Issue 266).
Bring a doggy bag
TfE are now inviting 'important stakeholders' (i.e. locals) to Valvona & Crolla (Multrees Walk) on 22 and 23 September to be told 'what this means for you'.
Significantly, there is no mention on the invitation of you telling them what you think about it, or of contributing to planning democracy by describing what you'd like to see at the start of the design process. As far as we can see, it will be all one-way traffic.
Refreshments will be available. See you there.
WHEN: Friday 22 September, 4pm–7pm; Saturday 23 September, 10am–4pm WHERE: Valvona & Crolla Vincaffè, 11 Multrees Walk
*The Together for Edinburgh partnership comprises City of Edinburgh Council, Edinburgh St James [i.e. developers TH Real Estate], Laing O'Rourke, and the Scottish Futures Trust.
---------------