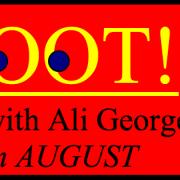 Unless you live on the Moon (or in Colinton), you are doubtless aware that August is a period of intense activity in Edinburgh. Getting to work on time means leaving the homestead 40 minutes early to successfully navigate seas of tourists, and one must grit one's dentures in preparation for mysterious price hikes in all Society hotspots.

As a result, there are some people who find it difficult to enjoy Festival season; still others who aim to avoid it entirely. These are perplexingly optimistic people – it can't be done. Do they not realize that The Festival incorporates everything that happens in Edinburgh during August? Even things that would happen regardless, like art and music and bagpipes, are co-opted under its velveteen banner.

From 24 July–28 August, for instance, Broughton Deli (7 Barony Street) presents 'Edinburgh Mapped', an exhibition of photographs depicting less well-known parts of Edinburgh. Meanwhile on 29 July, Bourne Gallery (6 Dundas Street) reopens with 'Five Centuries of Scottish Portraiture', running until 10 September. Could these have occurred without the 'Festival' tagline? Of course. But they aren't.

There was a time when sainted Leith offered respite from this madness, just a short perambulation away from Spurtleshire. But those hallowed streets are safe no longer, as 2011 sees the launch of Leith on the Fringe in the Out of the Blue Drill Hall (36 Dalmeny Street). Truly there is no escape from the constant stream of music, comedy, theatre, poetry, art, politics, dance and television. Curses!

I hope you weren't relying on me to pick out the most interesting items to peruse in August, because the mere thought of all those brochures makes my brain hurt. And anyway, I'm so late to the party it's not even fashionable – you can already read the top picks of The Scotsman, The Guardian, The Edinburgh Reporter and Edinburgh Spotlight. Meanwhile, Informed Edinburgh has a feature on Dance, The List has picked out top shows for kids. Writer Colin Galbraith has covered the Book Festival on his blog, and Fest has highlighted this year's rise of Cabaret.

There's so much happening I'm almost tempted not to go Oot at all this month, worried as I am that constant demands for directions combined with disappointing Free Fringe performances will age me prematurely. It's very tempting to hunker down in some shrubbery and wait for the fuss to die down, canned food and good book in hand.

But when my ravioli ran dry I'd have to brave a shopward trip, at which point I would surely recognize the futility of August hibernation. The Festival is all around, like oxygen or a sense of impending doom. Some venues – like The Phoenix (46 Broughton Street) – are offering a variety of Laughing Horse Free Fringe shows, by their nature patchy but occasionally worth a look. Meanwhile, The Playhouse has created a studio theatre on Picardy Place where they are showing brand new drama, comedy and cabaret. Then Valvona and Crolla (19 Elm Row), has all kinds of live music from jazz to folk to classical.

Other nearby venues include The Outhouse (12a Broughton Street Lane), The Botanic Garden (20 Inverleith Row), Pilrig Church Hall (1b Pilrig Street), Leith Library (28–30 Ferry Road), The Jekyll and Hyde (112 Hanover Street) … the list goes on. And on. And on. (See Breaking news 27.7.11.) My advice, therefore, is to plunge in with both feet and hope for the best.

See you on the other side.