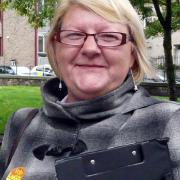 Labour candidate Karen Doran lifts the lid on the bees in her bonnet.

I am delighted to have been selected to stand as the Labour Party candidate, in the City Centre Ward, for the local by-election being held on Thursday 18 August.

This by-election has been called because the SNP representative, Councillor Beckett, has accepted a job in America and has abandoned the City Council. One of Councillor Beckett's leaving gifts for the City Centre was to vote to close the well-known and loved High School Yards Nursery. Several well-respected academics tried to stop the SNP/Lib-Dem Council from closing it, but the councillors wouldn't listen and the doors were finally closed at the end of last term.

Sadly, City Centre residents have had no Labour councillor for the last four years. I am standing to be a strong voice for them and to champion the issues that matter to them.

I have spoken to many residents over the last few weeks and the same thing comes up time and time again: that they are feeling neglected in the City Centre. My priorities will be to demand an increase in rubbish collection and recycling, I will fight for more police patrols on foot in the evenings, and I will stop the city centre being the forgotten part of Edinburgh.

For nearly 20 years I have worked in the constituency office of Mark Lazarowicz, MP and Malcolm Chisholm, MSP in Leith Walk. I am aware of the everyday problems facing the people of Edinburgh.

I was brought up in Tollcross, attended Tollcross Primary School and James Gillespie's High School. The City Centre is where I was brought up, I know the area well, and believe I will be a strong voice for City Centre residents.