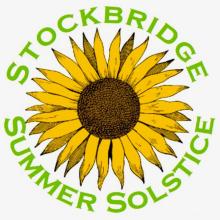 Have you been out and about in today's weather? Are you completely sodden and downhearted?
Cheer up! Stockbridge & Inverleith Community Council have contacted us about a traffic-free, activity-packed (and, no doubt, sun-drenched) event they will be hosting later this month.
Unpack your sombrero and read on for details …
The Stockbridge Summer Solstice will take place on Sunday 23 June from noon till 4.00pm on Raeburn Place.

Two stages at either end of the street will offer entertainment from local acts, including: the Addams Family; Lucy Ruuskanen; the Cheyne Gang; Chris Finegan; the Colonies Choir; the Professors of Logic; Glee Club Choir; Stephanie Humphreys; Keara Kortervas; and the Ihayami Dancers. There'll also be a pipe-band parade.

Traders will extend from their normal premises onto the pavements to allow for a more leisurely browse.

Phoebe the face-painter will be there together with a variety of other street entertainers and activities. Bistro tables will be available to rest at and chat or play board games provided.

There'll be a number of special events taking place during the day. So far confirmed are: a fashion show provided by two of our local charity shops; free bicycle-security marking by the Community Police; Sensory Play provided by The Yard; and activities from the Botanics and RSPB.

This is a great opportunity to find out what's happening in your area.

Please come along to help us celebrate our community and take advantage of a special traffic-free occasion. Follow us on our Facebook page or contact us at stockbridgesummersostice@gmail.com
Note: Raeburn Place will be closed to traffic (except emergency vehicles) from 10.00am till 6.00pm, and street parking will be suspended. Bus services 24 and 29 will be diverted.