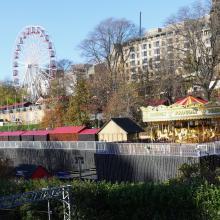 COUNCIL LEADER DEMANDS ANSWERS AS A MATTER OF URGENCY
Readers are doubtless aware of the furore over Underbelly's lack of planning permission for this year's Christmas Market.
Spurtle has now discovered that Underbelly also lacked planning permission for its previous Christmas Market in 2018–2019.
As the following image makes clear, Underbelly's consented permission (Ref. 14/30915/FUL), originating from Unique Events in 2014, expired on 10 January 2018. No application was made to renew the consent for last year's event.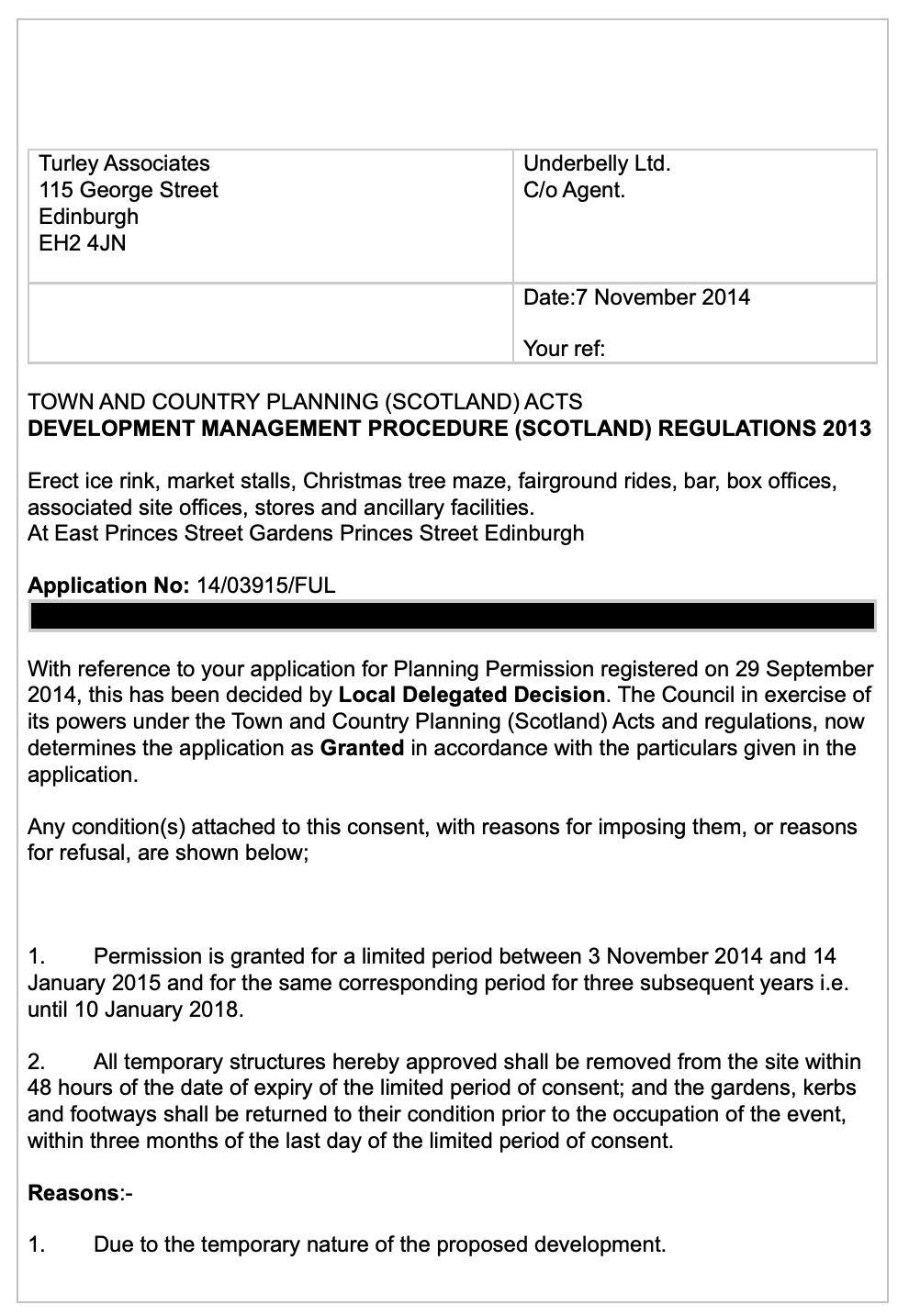 Reacting to our discovery, Council Leader Adam McVey told the Spurtle: 'I'm extremely disappointed that Underbelly did not apply for the proper consents for Christmas 2018/19 as it was their responsibility to do so under the contract.
'That said, there are clearly lessons to be learned for our own processes both in terms of contract management and enforcement. I've asked the Chief Executive to get to the bottom of this as a matter of urgency with a meeting of all relevant Council departments to examine how this happened and give assurance this won't happen again.
'Edinburgh's Christmas has grown to be a "must go" attraction for tens of thousands of our residents each week as well as huge numbers of visitors, so it's important that we get the organising of this right and this situation does not reoccur.
'This year's Edinburgh's Christmas festivities are getting under way on Saturday, with our Building Standards and Public Safety teams carrying out final inspections and checks of the site before it opens to the public.'
While Cllr McVey may be extremely disappointed, many others in the city will be shocked and furious. The Council's incompetence or complicity is central to this fiasco, and residents will demand more than a public wringing of hands.
On a more cheerful note, Cllr McVey continued: 'We've also recommended and approved pedestrian-only access on Waverley Bridge from 11am to 5pm on Saturdays and Sundays to make it much easier for everyone to move around in a relaxed, fun and welcoming atmosphere.'
Spurtle approached Underbelly for a comment yesterday, but has so far received no response.
Got a view? Tell us at spurtle@hotmail.co.uk and @theSpurtle
For more on this story see:
Princes Street Gardens – the good old days (25.10.19)
Scaffolding in the park – Council blusters [25.10.19)
Planning flaw threatens Winter Festival food and drink (28.10.19)
East Princes Street Gardens – room for improvement (29–30.10.19)
Underbelly moves on PAN application (1.11.19)
East Princes Street Gardens (12.11.19)
------