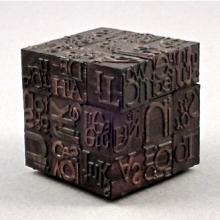 Matt Donovan and Hallie Siegel are collaborating Canadian artists whose work now appears at Edinburgh Printmakers and outside EP's forthcoming new home at the Castle Mill Works on Gilmore Park.
The exhibition – History Machines – foregrounds the physical presence of text: the effect on understanding of its manufacture, style, composition, manipulation, replication, and decomposition.
The result is a small collection of thought-provoking and beautifully crafted pieces which – by examining display and materials, sometimes formally, often witilly – disrupt one's normal reception of the word to shed new light on meaning.
These destabilising strategies often deploy an unexpected three-dimensionality. 'Impressions', for example, adapts a dialogue from Plato's Phaedrus in which the advantages and dangers of literacy are discussed.
It comprises two metal plates, each 'a stamping mould of the other, bearing both sides of the debate in two running columns, alternately embossed and debossed, so that they fit perfectly together' (quoted from catalogue).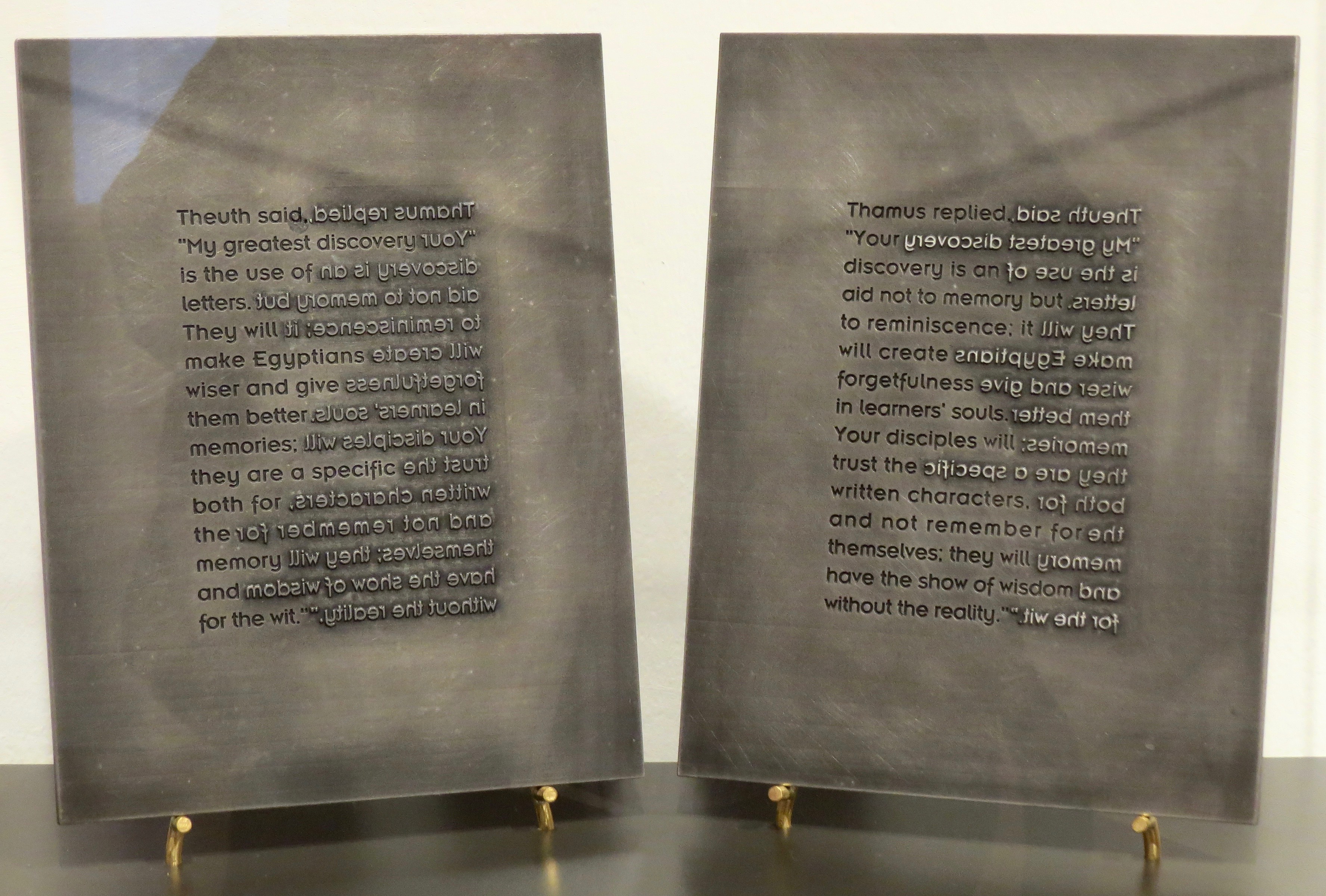 Similarly, 'Self-Printing Book' is a brass sculpture which both 'creates' itself and prefigures its own redundancy. The hinged pages have the dependable solidity of bygone machinery, and on opening each spread, the 'printed' page appears to have been newly pressed by its mould.
But on turning each page, those opposites reunite and in a sense mutually destruct. The text in play here is Vannevar's 1945 essay 'As We May Think', predicting the arrival of personal computers, hypertext and the Internet.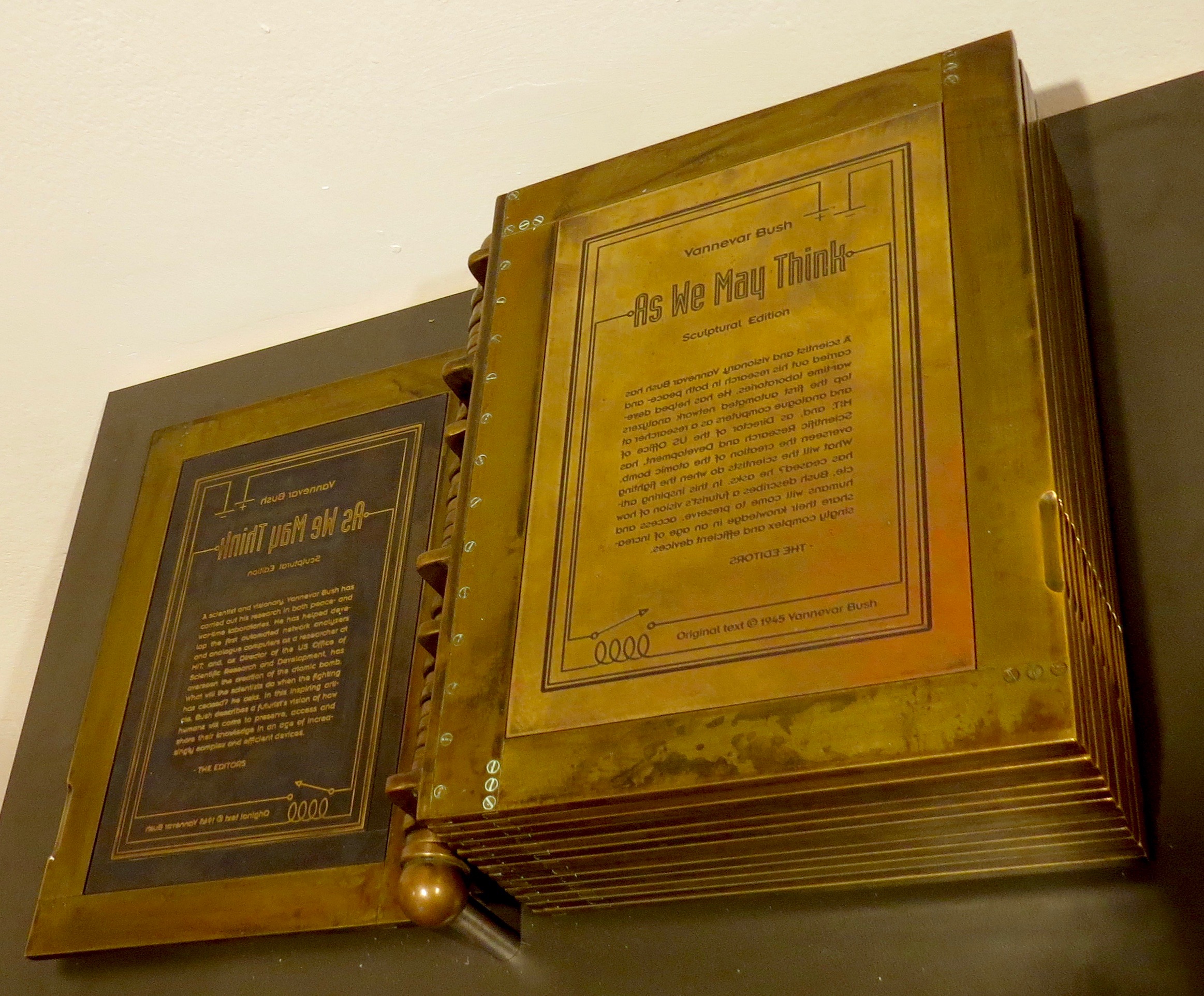 The puzzling games continue with 'Haikube' (pictured top-right). Each typefaced, woodcut face of this Rubik's Cube forms a strictly syllabic, three-line poem. Manipulating the cube reconfigures the components and distorts the whole, and can produce billions of new strictly syllabic haikus, some 150 of which are printed two-dimensionally in the adjacent 'Rotations'.
It is 'a poetry-generation machine that crosses over multiple conceptual lines: between art and science, reading and writing, the singular vs the multiple, and preciousness vs ubiquity' (quoted from catalogue).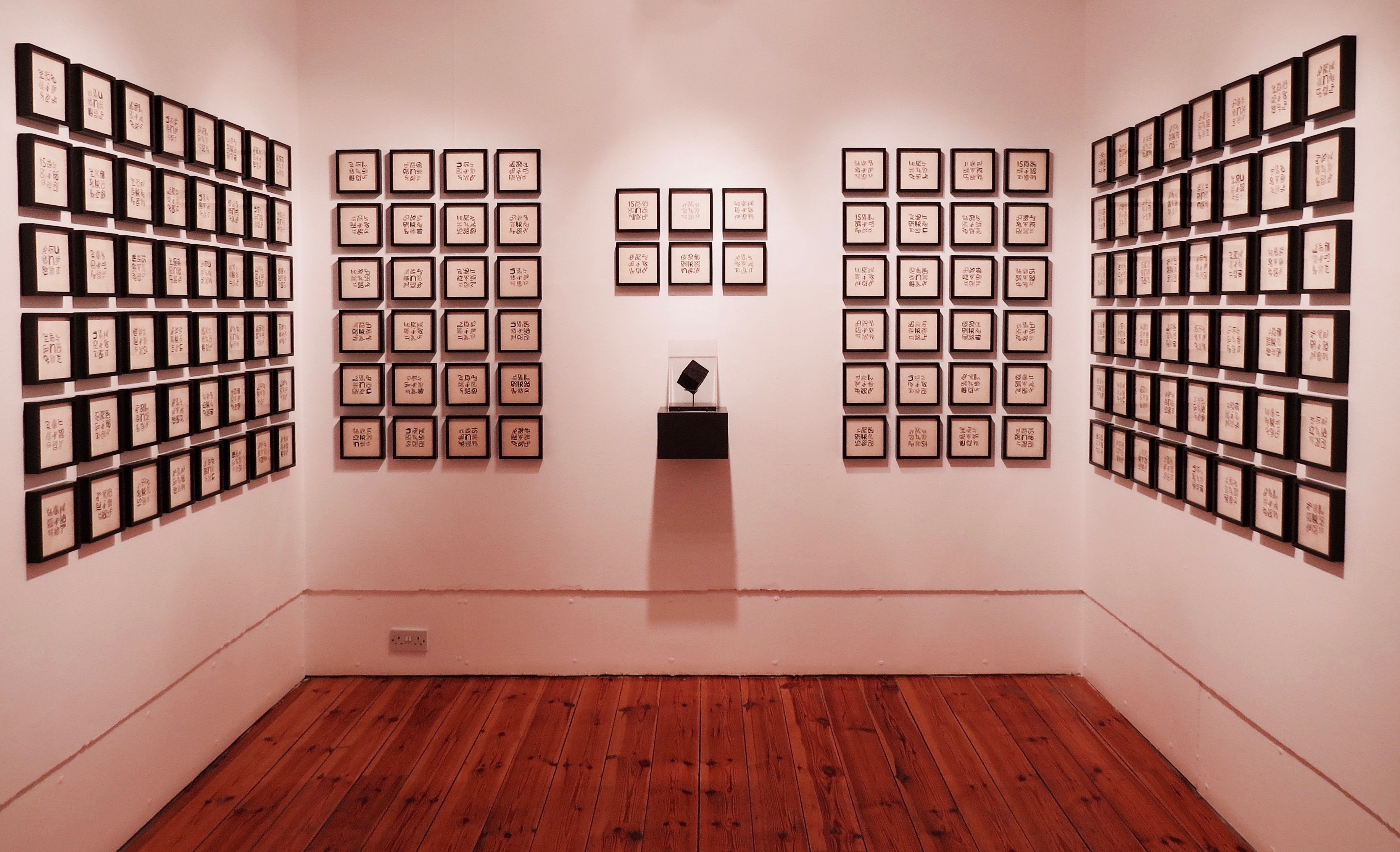 In one of the exhibition's two short films, we travel around the astonishing 2012 installation 'Landscape'. It comprises an adapted passage from John Steinbeck's The Grapes of Wrath, the words hung in front of a white wall so as to appear like a printed page.
That coherent script is an illusion. Words and phrases are hung at different distances from the wall, so that in approaching them or moving from side to side, the text fragments, slides and reforms. It's a fascinating surprise, disturbing, and beautiful to behold.
Donovan and Siegel's explorations at the interface of form and information, collusion and collision are enjoyably profound.
Their work is refreshingly accessible, free of po-faced jargon, and in the show's second short film they describe it – particularly the Fountainbridge 'Rust Garden' – with both clarity and charm. I urge you to go.—AM
Matt Donovan and Hallie Siegel's History Machines continues at Edinburgh Printmakers, 23 Union Street, Tues–Sat 10am–6pm, until 22 October. Admission free.