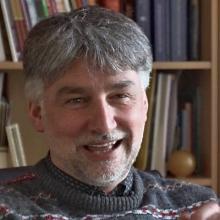 Obituary: Reverend Peter Macdonald
Many across Broughton and beyond have been saddened by the Reverend Peter Macdonald's sudden death on 12 February.
Macdonald became Minister at Broughton St Mary's Parish Church in November 2018 (Issue 278), having already served here as locum for 10 months.
His period in the parish was characterised by approachability, humour, compassion, and conviction about the importance of reaching out to all quarters, not least Broughton's LGTBTQI+ community.
Born in 1958, he was brought up in a Christian family in the West of Scotland, and attended Vale of Leven Academy before going on to study at Glasgow University (1979–83), where he read Theology and Divinity, and Edinburgh University (1983–85). He was ordained in 1986.
In 1983 Macdonald joined the Iona Community, where he met his future wife, the theologian Lesley Orr.
He worked next as an Assistant Minister in Muirhouse and Pilton before moving on to Torbain Parish Church in Kirkcaldy in 1990. In 1998 he began again in Edinburgh at St George's West on Shandwick Place, and here he remained for 11 years.
From 2009–17 he was Leader of the Iona Community, attracted as before by its attention to justice, politics, and peace.
Arriving in Broughton, Macdonald described his faith as 'incarnational and relational'; i.e. encountering the holy in one another and in the world. His theology, he said, was progressive, reflecting how God's love extends to everyone.
Peter Macdonald was much admired and will be greatly missed by believers and non-believers alike. Our condolences go to wife Lesley and sons Callum and Lorn.
-----------