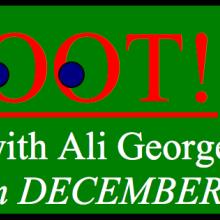 Callooh! Callay! The Christmas season has been ushered in for another year by an X-Factor person crooning about driving in a tenuous bid to make us purchase frozen peas bedecked with tinsel. Naturally, Broughton is all a-quiver with anticipation for the big day, but there are a few things you can do to fill in the time till then.

Art first, because there's an awful lot of it kicking about. Not literally, of course: we'll have no performance artists here. However, Bourne Fine Art Gallery (6 Dundas Street) continue their exhibition of lovely paintings by Jock McFayden and Caroline McNairn until 14 January. A little further down, The Scottish Gallery's Christmas Exhibition at 16 Dundas Street runs from 3–24 December, and features work by Elizabeth Blackadder and Philip Reeves, amongst others.
Axolotl's (35 Dundas Street) Xmas Show opens on Friday 2 December with illustration, sculpture, photography and knickers. And across the way the Torrance Gallery's Christmas Exhibition at 36 Dundas Street boasts 'over 70 gallery artists and jewellery by Sheana Stephen' from 2 December–14 January.
But this street isn't all about art, oh no. If you make it down to the bottom you can also find cake! Cuckoo's Bakery (150 Dundas Street) make and sell approximately 4 bajillion fresh cupcakes a day and are honour bound to have all sorts of fun festive frosting on offer this month. If you haven't visited them yet, now may be the time.
There's still a chance to see the Hidden City Exhibition at Edinburgh Printmakers (23 Union Street), which runs until 23 December. Then, if you feel inspired by the work on display, you can head along to an etching workshop and make your very own Hidden Edinburgh Etching on 10 December. Find out more, including how many pounds you will have to part with for the privilege, on their website.
Music now, for it is written that the Superclub Gallery (11a Gayfield Square) have organised a Christmas Party at The Third Door (45–47 Lothian Street) on 15 December. Being as how they are a collective of artists, they will exhibit stuff by Diane Edwards, Lachlann Rattray, Alex Tobin and Gayle Meikle; but there will also be live tunes from Mother Ganga, Fox Gut Daata and The Artist Formerly Known As Mince (plus guests Hug Love & Myspace). If ever there were a line-up to make you feel you might be too old for going out, this is surely it. Festive.
Meanwhile on 21 December, P3s and P4s at Pilrig St Paul's Church (1a Pilrig Street) offer comparatively traditional fare with their Vocal Vibes Carol Party, 4.30pm. If you can think of anything more likely to get you in the spirit than ickle carolling bairns, keep it to yourself. I don't want you shattering my illusions.
Post turkey-day, of course is Hogmanay – the glittering gateway to another year of goals reached and dreams fulfilled. To celebrate, the many public houses of Broughton Street and Leith walk will be opening their doors and selling a selection of alcoholic and non-alcoholic beverages. Surely better than getting your stilettos caught in the crumbling tramlines of Princes Street, eh gents?
Stay classy, Spurtleshire.