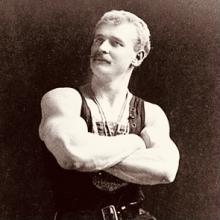 RELIGIOUS WORK IN EDINBURGH.
The number of social agencies in connection with the Church is increasing so rapidly in our midst that many good men are beginning to wonder when time will be found for carrying on the more serious business of the Chruch, viz., the evangelisation of the masses. Time and again we have directed attention to the formation of men's clubs in different parts of the City.
Greenside Parish Church has leased rooms at 42 Greenside Row for the purposes of a social club for men. These include a reading room, a games room, and a small hall suitable for billiards and bagatelle. It is proposed to use the Church Hall for gymnastics on Saturday nights, and the chapel for religious services on Sundays.
An appeal is made for money, equipment, members, and workers. The circular, which is signed by the Rev. John Lamond and the Rev. Professor W. P. Paterson, D.D., Edinburgh University, says:—
"Experience has shown that one of the most powerful agencies that the Church can employ in her mission work is a social club for men. Its purpose is to brighten dull lives by providing the means of innocent recreation and to give opportunities for quiet reading and self-improvement. The religious value of such clubs lies in the fact that they gather in many who have lapsed or are lapsing from the church, and that the Sunday meeting becomes a natural and welcome part of their proceedings."
Such may be true in many cases, but what of the dull homes, the lonely wives, and neglected children of the fathers whose evenings are spent in the clubs instead of their homes? That is a side of the question which church people would do well to consider.
Mid-Lothian Journal, 15 November 1907
[1] Image: Wikipedia, Creative Commons.
*****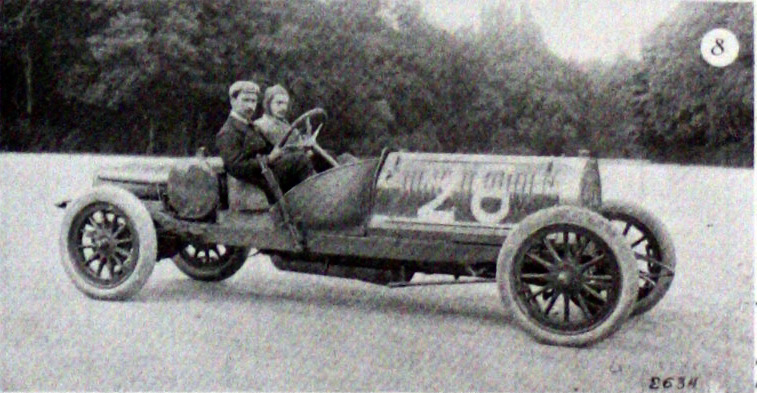 PORTHOS CARS,
The Most Refined Car that has yet been produced (Sole Concessionaires for Great Britain, Colin Defries, Ltd, 2 Denman St., London.)
VULCAN CARS.
The Car for the Man of Moderate Means.
Early Delivery.
WILFRID FOULIS, LIMITED, Agents,
122 George Street, Edinburgh.
REPAIR DEPARTMENT and PRIVATE MOTOR
HOUSES, SUNBURY MEWS, BELFORD ROAD.
Telegrams—Clutch, Edinburgh. Telephone—5401 Central.
Scotsman, 11 March 1908[2]
[2] Grace's Guide to British Industrial History (from which image above is taken) says Porthos Cars were manufactured in France between 1906 and 1914. The Vulcan Motor and Engineering Co. (based at Crossens, Southport) made cars from 1902–28.
*****
1908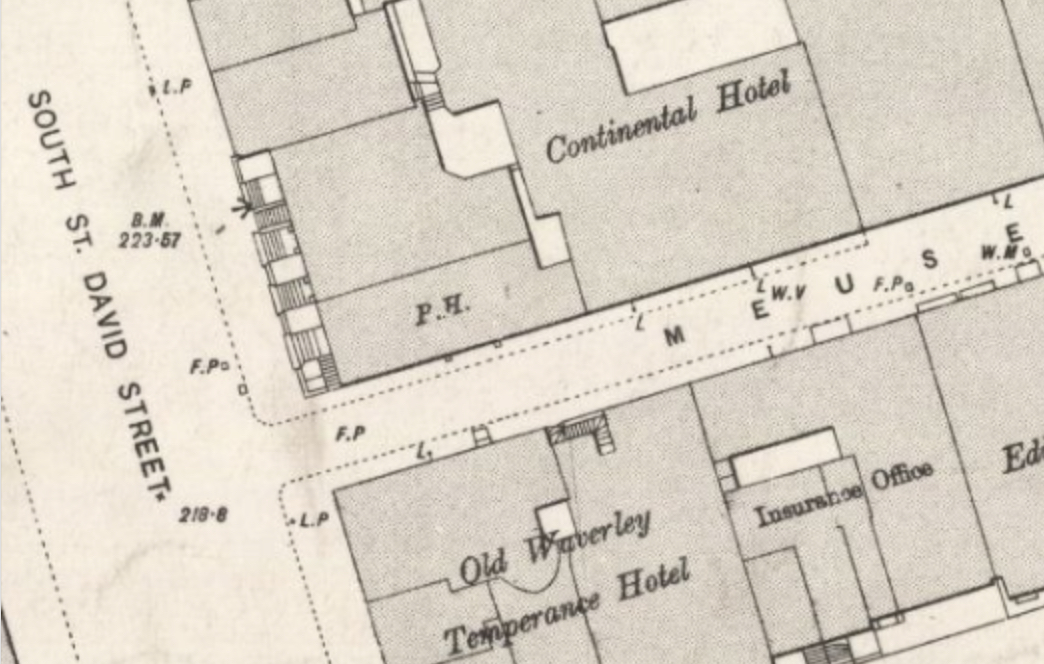 WILLIAM BARNETSON & SONS,
AUCTIONEERS AND VALUATORS,
48 GEORGE STREET,
EDINBURGH.
WITHIN
THE CONTINENTAL HOTEL,[2]
MEUSE LANE,
On WEDNESDAY and THURSDAY 15th and 16th April,
 at Eleven o'clock Each Day.
THE WHOLE FURNISHINGS therein, including that of 6 PUBLIC ROOMS, BILLIARD ROOM with TWO FULL-SIZED TABLES by Messrs J. & T. SCOTT, 18 BEDROOMS, PUBLIC BAR, and BAR FITTINGS, PLATED ARTICLES, BED and TABLE LINEN, NAPERY, CUTLERY, &c. &c., comprising:—
DINING AND COFFEE ROOMS.—Mahogany Telescope Dining Tables, 12 Oblong Dining Tables on Turned Legs, 10 Single and 2 Double Seats, with Arms and Backs in Leather, Oak and other Chairs in Leather, Easy Chairs and Sofas, Couches, Mahogany Pedestal Enclosed Sideboards with Mirror Backs; Stained Glass and Leaded Panels, &c.
PARLOURS.—Cabinets, Mahogany, Walnut, Contre, Loo, and other Tables, Chairs, Clocks, and Mantel Mirrors, Engravings, &c.; Axminster, Brussels, and other Carpets.
BEDROOMS.—Mahogany, Birch, Ash 2 and 3 Door Wardrobes with Mirror Doors, Chests of Drawers, Dressing and other Toilet Tables, Washstands with Marble Tops, Brass French and Italian Bedsteads, &c.
BILLIARD ROOM.—2 Full-Sized Mahogany Billiard Tables and Accessories, by J. & T. Scott, Edinburgh; 3 Marking Boards, Cue Racks, Cues and Cue Stand, &c.
BAR AND STILLROOM.—Mahogany Counter (Horseshoe), Air Pump and Fittings, Fountain for Beer, Buffet and Fittings, with Mirrors; Milner's Safe, 22 ins. by 16 ins. by 16, and Stand; Cash Register Till, Long Case with Sliding Glass Doors, Painted Case of Drawers, Mahogany Desk on Stand, Hose Pipe, 2 Stock Casks[3] with Crans, about 50 Gallons: Copper Pump and Filler, &c.
HALL.—2 Metal Umbrella Stands with Mirror Backs, Gong and Stand, Lobby Tables, Dispatch Box and Letter Case, Fitzroy Barometer, Stair Rods and Carpets, Sets of Antlers, 5 Wrought-Iron Window Guards, 2 Leaded Glass Panels, 2 Wheel Luggage Barrows, &c. &c.
KITCHEN.—2 Kitchen Dressers, Tables, Copper Pans, Shapes, Meat Safe, 2 Pairs Steps, Double Water Tap, Large Bottle Rack, 6 Ft. by 6 Ft., 6 Tier, and other Effects.
A Quantity of BED and TABLE LINEN.
As previously Advertised.
On View Tuesday, 14 April, 11–4.
Catalogues Now Ready.
WILLIAM BARNETSON & SONS,
Auctioneers,
46 George Street.
Scotsman, 11 April 1908
[3] This is the end of the line for the Continental Hotel, last encountered in Edwardian News from the Mews 6, 10, 21. Ordnance Survey map (1893–94) reproduced by courtesy of the National Library of Scotland.
[4] A cran is a mechanical device for lifting heavy weights.   
*****
EDINBURGH BOOKMAKER FINED.—Henry Schoolbraid, who admitted in Edinburgh City Police Court yesterday having in West Register Street loitered for the purpose of bookmaking, was fined £10, with the alternative of thirty days' imprisonment. The penalty is the maximum for a first offence.
Scotsman, 18 July 1908
*****
ARIEL SIMPLEX (30–40 h.-p.), High Tension, Simms Bosch, Magneto and Accumulator Ignition, Luxurious Oopen Touring Body, and Cape Hood, 5 Lamps, Tools, and many Spares; cost £900 Sept. 1906, offered at £385, to make room for new car. Trial run by communication with Edmond, 3 Magdala Mews.
Scotsman, 8 August 1908
*****
MAN (17–18), smart and of good address, for electric elevator; previous experience essential. Apply Robert Maule & Son, Hope Street Lane.
Scotsman, 9 September 1908
*****
LORRY FATALITY IN EDINBURGH.—As the result of an accident in Antigua Street, Edinburgh, on Saturday, James Hogg (66) died in the Edinburgh Royal Infirmary yesterday.
Deceased, who resided at 3 Nottingham Terrace, was knocked down by a lorry and was run over by another lorry which was following.
Scotsman, 21 September 1908
*****
TAXI-CABS, Humber, Laundaulettes, Quiet, Clean, Comfortable. 'Phone, 5277. Motor Cab Co., 2 Canning Street Lane.
Scotsman, 9 December 1908
*****
MOTOR Stables to Let, 5 Randolph Lane, with Pits and Charging Boards for accumulators. Apply 19 Queensferry Street.
Scotsman, 19 December 1908
*****
HORATIUS BONAR
BORN DECEMBER 19, 1808
A HUNDRED years ago to-day Horatius Bonar, the hymnist for Scotland, was born in Patterson's Court, Old Broughton, Edinburgh.[1]
Scotsman, 19 December 1909
[1] Article continues in some detail and at great length, and then some.