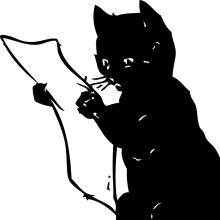 As you read this, Spurtle stalwarts are already delivering advance copies of the printed May issue to businesses, street boxes, and subscribers the length and breadth of the barony and beyond.
Readers may soon plunge into Page 1 like young mothers into wallpaper catalogues, finding there rather astounding news on waste and an absence of consultation. They may swoon at news of refurbishment, smile enigmatically at an expected cost, or ponder the mysteries of alleged inappropriate uses in residential areas.
On Page 2 we carry news of an enormous intrusion coming soon, flaws, circular arguments, and banner headlines. There's news that will have some people climbing the walls, other news of arrivals and departures, and still more news of reading material most people will choose to avoid.
Political commentary, football idolatry, and a dramatic backwater dominate Page 3, along with a psychotic sheep, underground springs, and the disappointing paradox that concerns local artists more than it does developers.
Page 4 concludes with an anniversary, bad parking advice, an angry academic, and fun ways with fizz.
All this and more can be yours at the usual venues between Pilrig and Stockbridge, Queen Street and Canonmills. Find copies too at our latest outlet beside the police-box café on Broughton Rd.
Alternatively, download the coffee-stain-resistant full-colour pdf that's due to appear HERE from midnight tonight.
Meanwhile, if you have news, views, hints, whispers, specialist knowledge or indiscreet images you'd like to share with us and around 15,000 other hyperlocal neighbours worldwide, please contact us in confidence at: spurtle@hotmail.co.uk