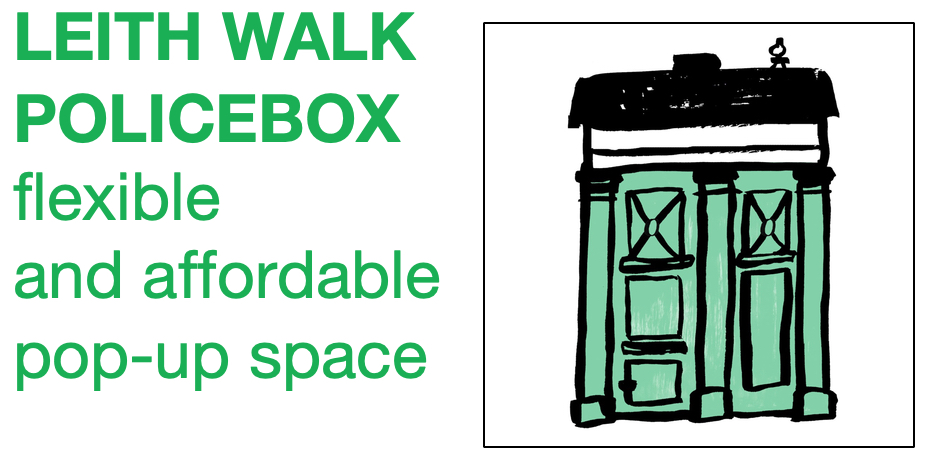 POP UPS COMING TO LEITH WALK POLICEBOX (WEATHER & TRAMWORK DEPENDENT - CHECK SOCIAL MEDIA BEFOREHAND)
Acorn Print Studio - 10am-6pm Saturday 17th October and Sunday 8th November Prints, tees, totes and much more! Hand made local art inspired by nature, by Lorna Johnson. And household and garden plants at affordable prices.

Yard sale, bric a brac & vintage - fundraising for Edinburgh Direct Aid and Cancer Research Sunday 18th October 11am-3pm Come and have a browse. Cash only please.

Affordable Warmth team from Changeworks - Tuesday 20th October 11.30am-4pm – Get ready for winter! Expert, impartial advice to help keep warm, saving energy and cut those energy bills

Zilla Art Jewellery - Saturday 24th and Sunday 25th October statement earrings and super soft facemasks

Crazy Croissants - Thursday 29th October Delicious filled croissants - Nutella, Strawberry delight, double chocolate, pistachio & honey. Come and have a browse. Card only please.
Wee Beauties - Sunday 1st November 10am–5pm-ish. Scarves, headbands, baby booties, cushions and hats knitted from the softest Merino Lambswool. Handmade fabric facemasks. Designs & colours inspired by nature and travel.

Typewronger books 3rd birthday party Thursday 5th November - Come and celebrate. A selection of Zines, new and second hand books for sale. Birthday cake and banter. All socially distanced.

Veez Vegan Pies - Saturday 7th November 12-4pm Raising money for Tribe Animal Sanctuary Scotland

Mrs Mash - songs & storytelling for younger children and their families -Sunday 8th November - free. For more information and making a booking for your family please email hello@leithwalkpolicebox.com . Part of the Scottish International Storytelling Festival community & family programme.

Stuart Mckay Photography - Saturday 21st November 10am-6pm Conceptual Scottish prints and cards for the ideal Xmas gift.
Yard sale - fundraising for Cancer research & Alzeimers charity - Sunday 22nd November 10am-4pm

Tipico Sicilian confectioners - nuts, dried fruit, chocolate, tarrone, brittles and gift boxes - Wednesdays and Fridays 11am–5pm-ish Card payment please

Free food shop (zero waste) and soup - rescued food and hot soup Tuesdays and Thursdays 12-2pm. RCK. All welcome. Bring a bag
PLASTIC FREE JULY has passed but are you still doing your bit to help protect our oceans and marine animals? Small changes can have a big effect. We are asking all our pop ups to think about changes they can make to their packaging to cut single use plastic. Thank you 😊