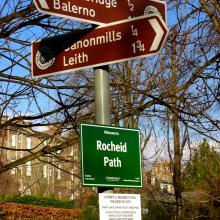 The Friends of the Rocheid Path are a group of users and nearby residents who are determined to see this popular route between Canonmills and Stockbridge restored to its former glory, and if possible improved. They envisage a pragmatic combination of Council, contractor and local efforts.

At their latest meeting (minutes give context at Extras, 15.2.12), it was agreed to formulate and prioritise proposals in advance of their next meeting on 27 February.

Interested observers unable to attend may nevertheless wish to comment upon or add to the greatly abbreviated summary of draft proposals shown below.

Immediate
[img_assist|nid=2700|title=|desc=|link=node|align=right|width=108|height=200]Cutting of ivy from trees – it mustn't be allowed to grow on for another year.
Clearing/chipping fallen branches and dead undergrowth.
Inspection and tidying of trees: fell tree at the electricity sub-station (condemned as unsafe); take down the ugly, damaged poplar at the Inverleith Gate.
Assemble long-term plan for the whole area, subdivided as: (a) Tanfield Bridge–Bell Bridge; (b) northern strip from Bell Bridge–start of holly grove; (c) holly grove; (d) Dell area; (e) Dell–far end of Arboretum Terrace (including grass strip opposite Reid Terrace; (f) the triangle at present outside the railings where Lagan (flood prevention contractors) store vehicles.
Soon
[img_assist|nid=2703|title=|desc=|link=node|align=right|width=200|height=159]Do we open up the Dell into a sort of meadow to be strimmed once a year? (Whatever is decided, there is planting here that has not grown well and needs to be removed.)
Do we reinstate the path along the inside of the railings so that it is possible to walk off-road all the way?
Do we incorporate triangle Area F into Area E? Pros: it will be better used; cons?
What would we like to see replanted in Areas E/F? This is not an area for forest trees but there are plenty of small/medium trees that would be beautiful here. Some of the 'saved' trees here do not look to be in a good state, and 1–2 ought to be replaced. Mature specimens would give some instant effect. One suggestion is for a community orchard has been suggested – an attractive idea but risk of vandalism when in fruit. Sorbus or malus with winter berries for the birds would be safer?
Not urgent
What planting could be put into the Rocheid Path to make it more attractive (simple stuff but beautiful)? – What trees? They should be very limited in number; – What shrubs? Beautiful/ attractive to wildlife but should not have to be pruned and should be placed to give space to grow naturally – e.g. wild roses with flowers and hips; – Honeysuckle could cover fallen timber too big to be removed; – Bulbs such as bluebells/snowdrops /wild daffodils; – Primroses and other woodland plants/foxgloves etc.
A linking path under the Falshaw Bridge has been suggested.
Signage along the Rocheid Path
Railings
Bins etc.
[img_assist|nid=2701|title=|desc=|link=node|align=none|width=593|height=640]