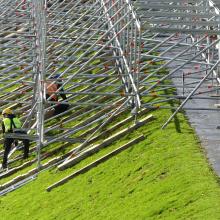 In the light of today's massive social-media response to Underbelly's scaffolding structure in East Princes Street Gardens, Spurtle sought a response from Edinburgh Council.
This evening we got it:
Edinburgh's Christmas continues to grow in popularity and not just with visitors. Just last year over 186,000 tickets were purchased for Christmas rides, attractions and shows by residents using their 20% discount (a 31% increase on 2017).

Throughout its residency in East Princes Street Gardens and following increased popularity and visitor feedback the market has evolved.

This year's infrastructure is in place to ensure that the Gardens – including the areas benefiting from National Galleries of Scotland's improvement works – are preserved. The redesign of the space will also address the concerns last year around large crowds and circulation.

Discussions between Underbelly and planning officers are ongoing.
This is wholly inadequate.
It glosses over an extraordinary expansion of commercial usage in public space without any adequate public discussion.
It attempts to distract from the intrusion by implicating the Council's own voters in its awfulness.
It fails to acknowledge or respond to overwhelming public concern at misuse of this and other Edinburgh green spaces.
It tries to take credit for rendering the new National Galleries of Scotland access useless by claiming that the new arrangement preserves that access.
As predicted [bit.ly/365KfPp], it links East Princes Street Gardens into a circular argument about ever-increasing exploitation.
Significantly, it fails to address the fundamental unfairness and irregularity of proceeding with such an invasive structure without the necessary planning permission being in place.
Blandly referring to ongoing discussions satisfies nobody.
This is a feeble response, poorly drafted at speed in a crisis.
Spurtle reckons it will persuade few and ultimately fool no-one.
Relevant Council officials and elected members are now on very thin ice.
For more on this story see:
Princes Street Gardens – the good old days (25.10.19)
Planning flaw threatens Winter Festival food and drink [28.10.19)
East Princes Street Gardens – room for improvement (29–30.10.19)
Underbelly moves on PAN application (1.11.19)
East Princes Street Gardens (12.11.19)
--------