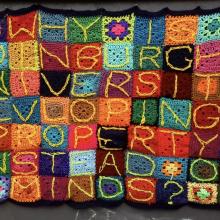 An abrupt change of advice from City of Edinburgh Council means Leith Central Community Council's meeting on 17 August has been cancelled.
The event – the first 'properly constituted' meeting of its kind since March – was to have been held in the Out of the Blue Drill Hall under strict social-distancing arrangements.
It was planned on the basis of Council advice issued on 6 July saying physical meetings were now possible under Scottish Government guidelines.
However, CEC's Chief Executive Andrew Kerr issued new advice on 5 August 'that all Edinburgh's community councils [should] continue to meet remotely […] in the interest of safety and public health'. No reason was given for the change.
One reason why all this matters is that Drum (Stead's Place) Ltd had been scheduled to present new plans for a development at the foot of Leith Walk. As previously reported, Leith Central Community Council had held out for such a 'real' consultation because, in its view, 'online meetings are unable to support equitable, large group interaction, and lack the accountability and independence of a properly constituted in-person public meeting.'
Following Covid-related rule changes in April, LCCC patiently negotiated a hybrid model with Drum whereby online consultation was to be followed by 'the well-established format of a presentation and Q&A session at a public LCCC meeting'.
That plan is now in disarray, and with it – argue critics – hopes for a genuinely accessible and democratic planning process in this case.
Meanwhile, many locals are left scratching their heads at Kerr's sudden change of position. Spurtle is seeking answers.
---------
Update: 13:55, 10 August 2020: Spurtle has now seen the text of an email addressed to community council office bearers by Edinburgh Council's CEO Andrew Kerr on 5 August. We reproduce it below, unedited and in full.
Community Council Office Bearers,

I want to start by thanking you for the role that you and your community councils have played during these uncertain times. Efforts to represent and serve local communities are more important now than ever as we look to support each other and build back better than before.

The City of Edinburgh Council have recently taken the decision that all democratic meetings and internal bodies, such as our Committees and Corporate Leadership Team, will take place virtually until the end of the year. This is in line with appropriate health and safety guidance.

It is our strongly recommended position that all Edinburgh's community councils also continue to meet remotely during this period. We believe that this in the interest of safety and public health. Whilst the decision is ultimately yours as an independent body, a coordinated approach between all public sector and community partners will help reduce transmission levels and ensure that vulnerable citizens are kept safe.

The Scottish Government's route map provides a basic framework and we have also created a coronavirus resources page that contains information on council services and advice for businesses operating in the city. Can I ask that you use both these resources in informing your decision-making as a community council.

We are currently exploring what additional support and guidance we can give to community councils to assist with virtual meetings and this will be communicated in due course.

If you have any queries or would like to discuss this further you can contact the Governance Team on community.councils@edinburgh.gov.uk .

Regards,

Andrew Kerr

Andrew Kerr | Chief Executive |Waverley Court, Business Centre 2.6, 4 East Market Street, Edinburgh EH8 8BG |andrew.kerr@edinburgh.gov.uk |www.edinburgh.gov.uk

----------

Update: 15:36, 10 August 2020: A City of Edinburgh Council spokesperson responds to our query:

The advice hasn't changed but the Council has shared further advice now that we have our own virtual meetings strategy in place until the end of the year. Last week it was reported to Policy and Sustainability Committee that physical committees wouldn't be returning until the end of the year. The decision was approved and will be reviewed in December.

Our advice to Community Councils has always been to be cautious but ultimately it was their decision. The decision from committee was communicated to community council members with a strong recommendation to continue to meet virtually, however the decision is still theirs as an independent body.

--------

Update: 13:18, 14 August 2020: Leith Central Community Council responds to Council's claim of no change in advice. See Letters.
---------