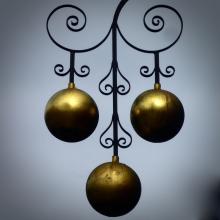 THEFT FROM A POLTON GARDENER.—Before Bailie Gibson, in Edinburgh City Police Court yesterday, Robert Copeland (33), residing at 22 Scotland Street Lane, was charged with having, on Friday, 2d October, in Waterloo Place, stolen a silver watch from James Alexander, gardener, Polton Vale, Polton.
A pawnbroker said the accused pawned the watch on the 2d October. He came back on the 9th inst., and asked for a further advance of 5s. on the watch, but as in the interval it had been reported by the police as having been stolen, the pawnbroker handed the man over to the police.
The accused, in his defence, said it was not likely that he would have gone and asked a further advance if he had stolen the watch. He found the pawnticket in his pocket on the 9th, and thinking it would be his father's watch, he thought he would try and raise a few shillings on it.[1]
The Bailie found the charge proved, and passed sentence of thirty days' imprisonment.
Scotsman, 13 October 1903
[1] Image top-right: Wikipedia, Creative Commons, accessed 9.5.21.
*****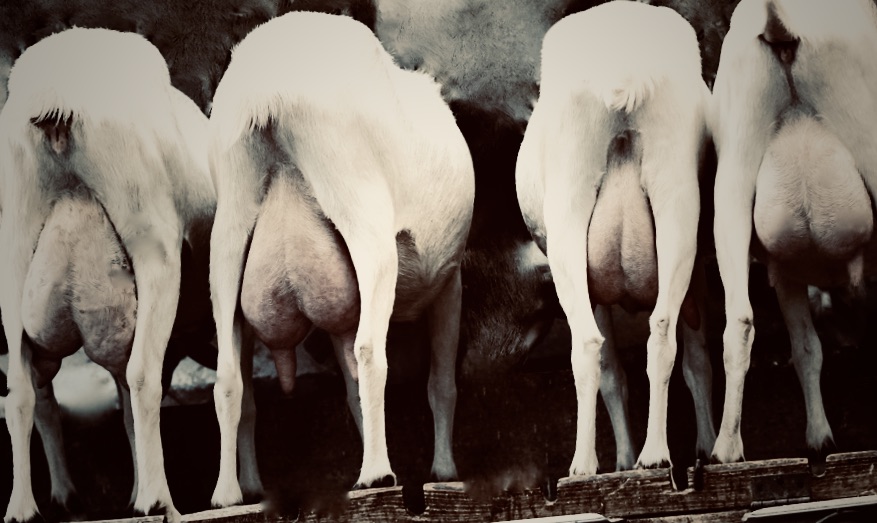 GOATS (four), in milk, and young billy; Cowan, Canon Lane, Canonmills.
Edinburgh Evening News, 24 October 1903
[2] Image:  Extension, Alabama A&M and Auburn Universities, accessed 5.12.20.
*****
THE GROWTH OF AN EDINBURGH BUSINESS.
Yesterday afternoon an interesting ceremony took place in the new premises of Messrs Gray & Sons at 89 George Street, Edinburgh.
On the invitation of the proprietor, Councillor Douglas, a large number of ladies and gentlemen, amongst them several well known and prominent citizens, assembled and witnessed the formal opening of the new premises for business by Lady Steel.
Amongst the company were Bailie Murray, Judges Sir A. M'Donald and Brown, Councillors Dobie, Balfour. and Lockhart, ex-Dean of Guild Ormiston, Mr. George M'Crae. M.P., the Rev. Dr Cameron Lees. Colonel Douglas Elliot, Mr. Thomas Hunter, Town Clerk, Mr. R. Ross, Chief Constable; Mr Jas. Williamson, City Superintendent's Office; Mr Geo. Goan, City Collector; Mr John Teller, etc.
The proceedings having been opened with prayer by the Rev. Dr Cameron Lees, Councillor Douglas gave a short statement of the founders and firms of the businesses now amalgamated.
Smiths Company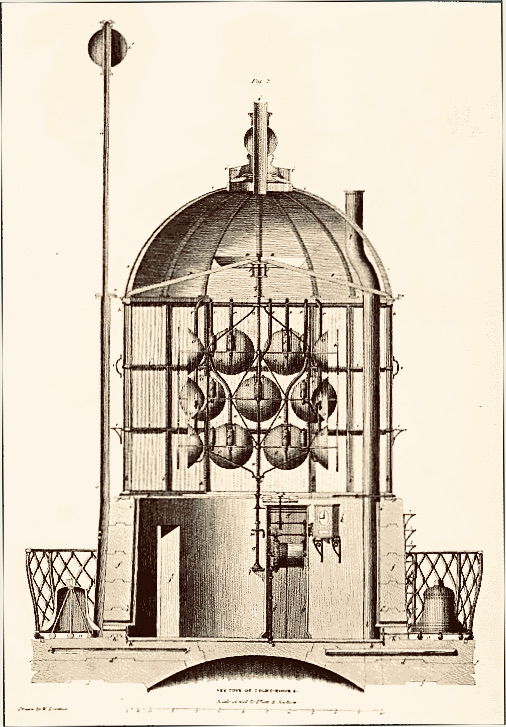 The arm of Smiths Company is the older of the two. It was established in 1770 by Thomas Smith, tinsmith, in the Potterrow. In 1786 Smith prepared an elaborate plan for improving the light of the lighthouse on the Island of May by a system of reflectors, but although favourably reported upon it was not carried out. Afterwards in concert with another ingenious lad of the name of Stevenson (who married his daughter), he brought before the Trinity House an adaptation of his system of reflectors with the result that it was adopted by the Board of Northern Lights. Mr Stevenson afterwards, assisted by his eminent sons (the father and uncle of R. Louis Stevenson) made the Scottish lighting system famous over the world.
Mr Smith and his sons, who succeeded him, did the mechanical work of the system and the furnishing of the oil, wicks, and other materials for the lights. The firm, who held for many years the contract for lighting the City, did a large general business in lamps and oils. At that time the business was carried on in Blair Street.
After the introduction of gas into the town, Smith & Co.'s business became to a large extent confined to the better class of the country people, who burned wax candles and stately oil lamps. and the business premises were transferred from Blair Street to 89 George Street. The oil store is kept in Blair Street to the present day.
In 1834, the late James Smith, son of the founder of the firm. was appointed "Purveyor of lamps to His Majesty (King William IV) in ordinary in Scotland," and in 1837 he received the appointment of "Purveyor of lamps and oil to Her Majesty (Queen Victoria) in ordinary at Edinburgh." Mr Smith died in 1879, and in 1892 the business, carried on in the meantime by his sons and grandsons, was converted into a Limited Liability Company.
In 1899 I purchased the business from the Limited Company and in the same year the Royal Warrant was renewed in my favour. In 1901 I purchased the property at 89 George Street and rebuilt it. In 1903 1 received the Royal Appointment as "Purveyor of Lamps and Oils to His Majesty the King." The firm has thus held the appointment under three Sovereigns.
In addition to a high-class family business, the firm has for many years executed important contracts, such as those for supplying the New Zealand Government and the Northern Lighthouse Commissioners with Lighthouse furnishings. It has also had the distinction for many years of being selected to execute the contract for lighting Holyrood Palace during the residence there of her late Majesty, Queen Victoria, and also during the annual visits of the Lord High Commissioner.
James Gray & Son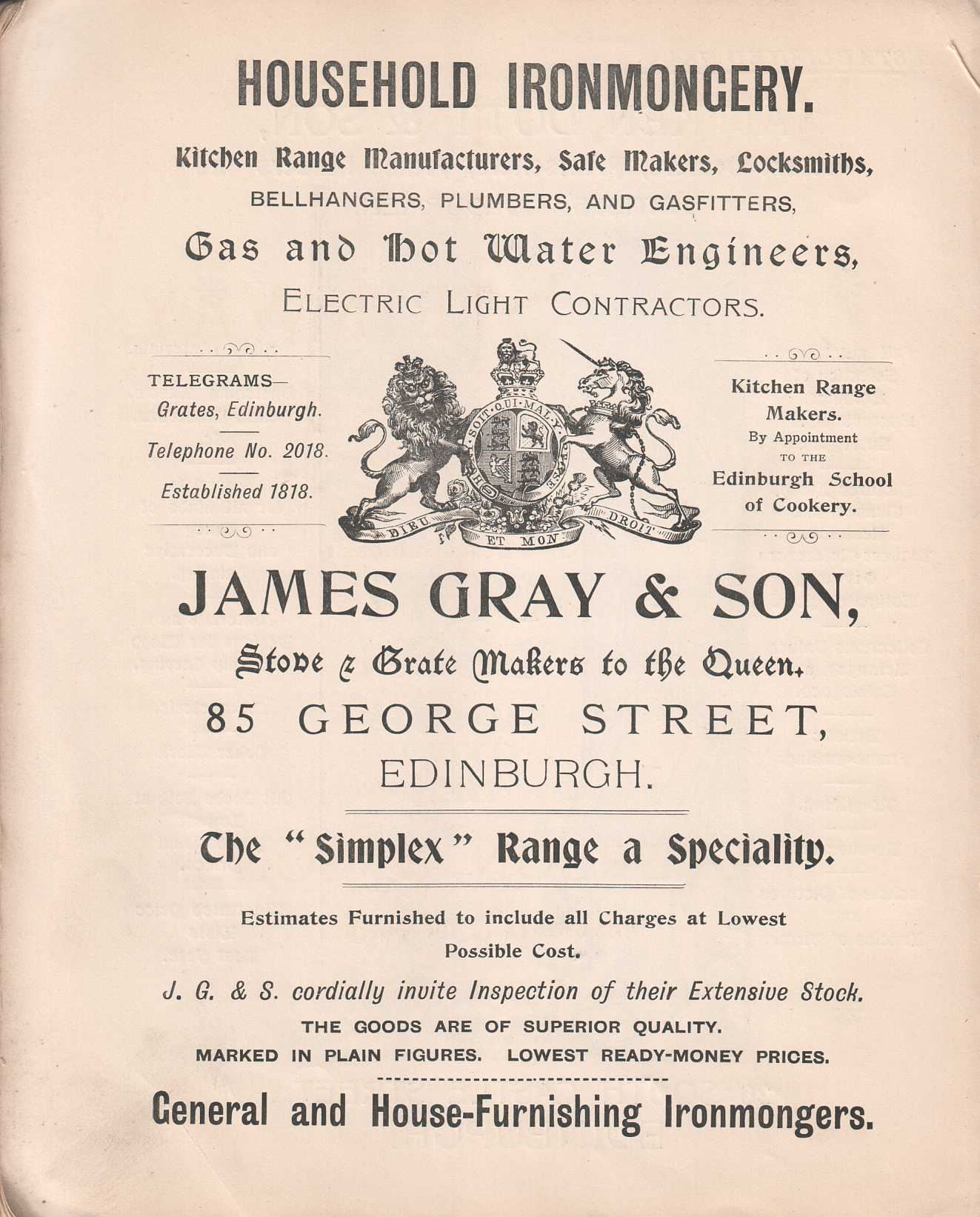 The business of James Gray & Son was established in 1818 by the late James Gray. He was born at Dalkeith in 1788, and, after serving an apprenticeship with his father, who was a smith and locksmith in that town, he came to Edinburgh and commenced work with Mr Robertson, a general trader in smith work, whose place of business was in the High Street, at the head of South Gray's Close. Mr Gray frequently recalled his first journey to Edinburgh, when he carried all his belongings in a turkey red handkerchief.
When Mr Robertson retired from business, Mr Gray started for himself at the foot of Leith Wynd in the property famous as "Paul's Work." Leith Wynd was then a perfect beehive of works of every description.[3] This step raised the jealousy of the incorporated trades, who tried to stop him, as he was not a Freeman or Burgess of the City. Fortunately, the burgh boundary was found to run through his shop so that he could enter from outside the line, but could not put on his shutters without trespassing. To overcome this difficulty he made his shutters to fasten from the inside.
Another incident is told of him. When he was making a piece of iron railing for Mr Sawers, baker, Lawnmarket, two men asked him what he was doing and if he was a Freeman. His reply was he "dinna ken," but he "kent he was a smith."
After a time he removed his workshop to the head of York Lane, on the site of the premises presently occupied by Messrs Croall & Croall, coachbuilders. He shortly afterwards opened a shop at the corner of York Place and Broughton Lane, and commenced the business of ironmonger.[4] He subsequently opened an oil store at the foot of Broughton Lane, where a large trade was done in all kinds of oils.
In York Lane Mr Gray established his reputation as a man of business. His work brought him into contact with the Dukes of Hamilton and Buccleuch and other noblemen and landed proprietors. Amongst bankers all over Scotland he was considered a great authority in safes, safe doors, and other kinds of strong rooms. On one occasion at Holyrood the Duke of Hamilton remarked that a grate made by Mr Gray was too good for Holyrood and was better fitted for Hamilton Palace. Mr Gray quietly remarked that he would be very pleased to make one the same or even better for Hamilton Palace, and this was the beginning of many orders from that Ducal House. All the iron doors, shutters, and some of the safes for the Commercial Bank on their removal from High Street to their present premises in George Street were made in the York Lane workshop entirely by hand, no machinery being used except a small foot lathe.
Mr Alexander Gray served his apprenticeship as a locksmith with his father in York Lane, and afterwards went to England to learn ironmongery. He joined his father in business in 1836, when the present name was adopted. In 1836–37, the firm built iron boats at Port Hamilton for carrying coal on the Canal. Before leaving York Lane, a tinsmith's branch was added to the already extensive business. […]
Mid-Lothian Journal, 30 October 1903
[3] Lighthouse image and further details: bellrock.org.uk, accessed 9.5.21. Advertisement image: Wikimedia commons, accessed 3.1.21.  Paul's Work was orginally established in the 15th century as a hospital attached to a chapel dedicated to St Paul. It was rebuilt in 1619 and housed a workhouse (until 1750) and Ballantyne's press (est. 1805), where Scott's Waverley novels were printed. Under the Improvement Act of 1867, Leith Wynd was knocked down and replaced by Jeffrey Street.
[4] Broughton Lane is now Broughton Street Lane. See also EEN (16.1.04). It seems likely that what is referred to here is today's Real Foods premises.
*****
HENDERSON.—In loving memory of our father WILLIAM HENDERSON, who died at 57 Circus Lane, on the 28th November 1902.
He has gone to his rest, and his ashes are laid
Like the wan leaves of autumn that die in the shade,
Unknown and forgotten by the world he may be,
But the earth that enshrouds him is sacred to me.
[M.E. and M. H.]
Edinburgh Evening News, 28 November 1903
*****
RELIGIOUS WORK IN EDINBURGH.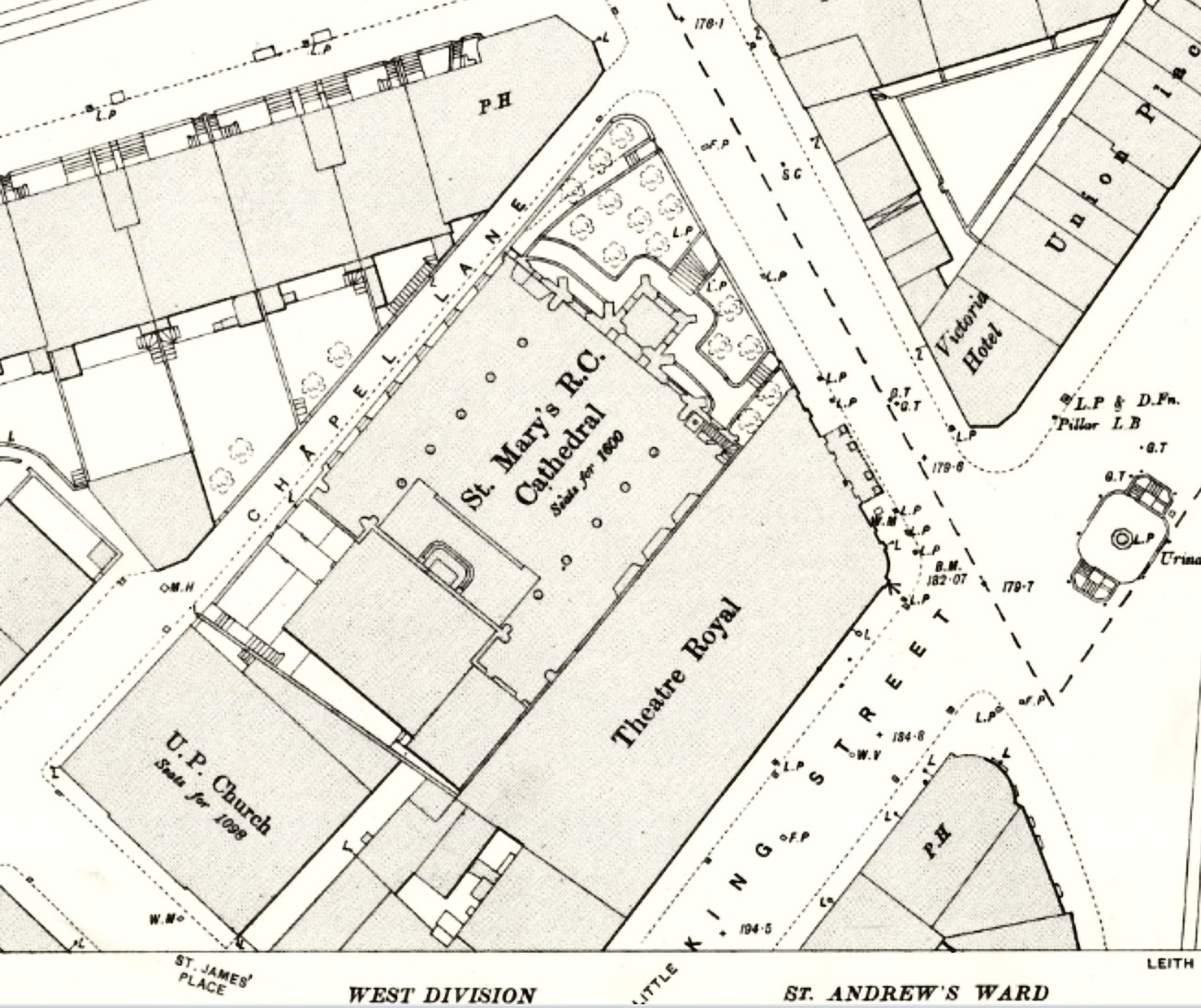 St James' Place U.P. Church have one of the finest suites of mission premises in the City. These are situated in Little King Street. They are well kept, well lighted, and comfortable. Any one receives a hearty welcome to the services, and no collections are made.
Mr John Taylor, M.A., the present missionary, is young and boyish in appearance, but has evidently "a big lot of go" about him. The list of meetings is interesting. There is an evangelistic meeting every Sunday night, when there is hearty singing, solos by ladies and gentlemen, and short addresees on gospel topics. The mothers meet on Monday afternoon. Special popular services are held on Tuesday evening. These, as the name implies, are varied in character, and include amongst other things lantern lectures and services of praise. The needs of the children are well provided for by a childrens church, Sabbath schools, bible classes, Band of Hope, and Boys' Brigade.
Thrift is also inculcated and encouraged, the penny savings bank having become quite an institution in connection with the mission operations. Last Tuesday night a large audience met in the hall to listen to a lecture by Mr W. M. Ramsay on "The Homes, Haunts. and Struggles of the Covenanters," while at an earlier hour the children listened to a lecture on a kindred subject.[5]
Mid-Lothian Journal, 11 December 1903
[5] Image: Ordnance Survey, 1893–4, reproduced with permission of National Library of Scotland, accessed 25.12.20.
*****
EDINBURGH TOWN COUNCIL
From behind the Chair.
The meeting of the Town Council on Tuesday was somewhat unduly prolonged. There was not much of what one might call important business, but there were several items which the Councillors took a considerable time to dispose of.
Previous, however, to entering upon the printed billet, Lord Provost Cranston made a sympathetic reference to the decease of their late colleague—Councillor Purves. He commented upon that gentleman's services in connection with the Gas Commission, the Water Trust, and the Town Council, which, he said, reflected the highest credit upon him.
He (his Lordship) thought they would miss their old colleague himself for his geniality, kindness, and true heartedness. He was a very good comrade, and an excellent colleague.
He moved that they send an excerpt of the minutes to the nearest relative of the late Councillor. Bailie Murray seconded, and the Council agreed.[6]
Mid-Lothian Journal, 25 December 1903
[6] Purves had been elected for St George's Ward in 1897, standing as an independent. He was alarmed at increasing levels of local taxation, supported good employer/employee relations, shared the interests of skilled artisans, and believed the Corporation should acquire Harrison and Roseburn Parks and extend the tramway to the further edge of his constituency. Permission to 'lift streets' should be under the control of a single Council authority. We shall soon encounter Purves again (ML-J, 11.11.04), at which point his life and times will be viewed posthumously in a rather different light.