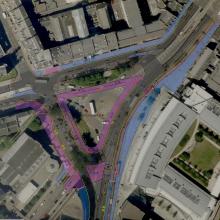 COUNCIL U-TURNS ON BAD PLANS AND FLAWED PROCESS
With a surprising turn of pace, the Transport & Environment Committee convener Lesley MacInnes has responded to an avalanche of protest at poorly designed and inadequately consulted plans for Picardy Place.
Individuals, lobbyists, 'stakeholders', councillors and community councils railed against the proposals and the method of their delivery.
On 27 September Cllr MacInnes deferred the Picardy Place report until 7 December to allow more time for consultation.
Shed load of issues
Below we reproduce the admirably concise email to her from Leith Central Community Council's Vice Chair Harald Tobermann. It was sent (on 25 September) also to the developers, and is followed by Cllr MacInnes's initial response (sent on 26 September) to all those who had contacted her.
Dear Sir or Madam

I understand that on the feedback received in the wake of the information session at Multrees Walk a report will be presented to the Transport & Environment Committee on 5 October.

I write to advise that such a short consultation period is not workable for Community Councils – we get more generous consultation deadlines for applications to erect a garden shed.

In addition, the information presented at the information session lacked technical detail and seems to replace a round with a triangular gyratory that prioritises a still theoretical tram extension and motor traffic accessing the vastly expanded St James parking provision.

Perhaps more time is needed to work up the technical detail and come up with a design that unambiguously prioritises pedestrians. It would also be appropriate to arrange presentations to the Community Councils most impacted by the proposals.

Dear XXXX

Many thanks for your email on planned changes to Picardy Place.

Firstly, may I apologise for not sending you a fuller response to the specific points you raise? I am currently working with officers to try to find appropriate means to address many of the issues raised by yourself and other correspondents, as well as during last weekend's consultation. I am trying hard to find solutions within the legal, financial and physical constraints of these plans.

Our current expectation is to bring a report to the Transport & Environment Committee (of which I am the Convener) on Oct 5 which should reflect that progress. I appreciate that this is not likely to address everyone's specific concerns. Please be assured, however, that I have been looking very carefully at social media and email commentary on this project and have been discussing, in detail, with officers the various implications for both this project and how we proceed around future road developments within the Council.

Thank you very much for taking the time to write to me with your concerns. I sincerely hope that we can make progress which will meet some of the objections raised.
NTBCC weighs in
Spurtle has now been shown the considered response of the New Town and Broughton Community Council. Yesterday, its Chair Ian Mowat wrote damningly to Committee Services at the Transport and Environment Committee as follows.
Dear Ms MacMillan

I am writing on behalf of the New Town and Broughton Community Council regarding the report on the design of Picardy Place for the 5th October meeting. I hope that you will circulate this to Committee members in advance of the meeting.

Like many local residents and other stakeholders, Community Council members were shocked by the short timescales indicated in the September public engagement exercise by 'Together for Edinburgh'. The design was significantly different from the earlier designs mentioned your report. These are not just detail differences, as banning of the left hand turn from York Place to Broughton Street is likely to have knock on effects on neighbouring streets, as drivers seek alternative routes. Pavements with high footfall are being designated mixed cycle/ pedestrian use. Moreover, there was little indication in the public event what consideration, if any, had been given to the concerns raised by stakeholders about previous designs in earlier similar information events. Many commented that the branding 'Together Edinburgh' was inappropriate for an initiative which excluded community stakeholders and which Sustrans have disassociated themselves from.

We welcome the recommendation that further public engagement is needed, but we fear that what is planned sounds more like an improved PR exercise than genuine consultation. The game is given away by para 3.8 where 'the Committee is asked to note that these works will continue alongside the process outlined in this report, in order that the project programme can be maintained. This will include moving the Paolozzi Sculptures and the statue of Sherlock Holmes but will not include any works for the construction of the new junction layout.' This suggests that changes to the plan which might mean the sculptures do not need to be moved are not envisaged. We would suggest that this is not in good faith, and the Committee should order all such work to cease and instead instigate a genuine consultation about the redevelopment of the Picardy Place roundabout site.

Although the design has gone through a number of iterations, which were also aired in public at similar information events, there never has been a wide ranging and open consultation about how the area could be developed to meets the needs of the wider community. Instead, each time the community has been told that this is how it has to be, first to accommodate the tram route, then to accommodate a hotel. And each time it turns out that it didn't have to be that way.

Those with long memories in our community council say that the initial 1970's roundabout was designed to accommodate a road under Calton Hill that thankfully was never built. It functions, after a fashion, and was improved by being 'pulled in' to create the pleasant space outside the Cathedral which accommodates the Paolozzi Sculptures, but it remains gimcrack and suboptimal. Our fear is that what is proposed will be little better, and is being rushed though because it is convenient to build it whilst Leith St is closed. However, this is a marginal gain to set against the danger that we end up with another suboptimal scheme. This, we suggest, is not the way the Council should go about making changes to key infrastructure within the World Heritage Site.

By coincidence we note the report on the George Street and First New Town (GNT) Design Project. It states at paras 3.7 and 3.8 that:

'WYG Environment Planning Transport Ltd have assembled a multi-disciplinary team, including experts in landscape architecture, planning, transport planning and modelling and public engagement, to now support the Council in the necessary consultation, modelling and analysis tasks required in order to develop and complete a preliminary design for George Street and the interdependent streets - Castle, Frederick and Hanover. The preliminary design ….for these streets will act as a 'blue print' for any future development of the area, and is intended to be adaptable, to allow for evolving future operation on these key. GNT stakeholder input, engagement and listening exercises will be delivered by consultants as an integral part of the commission, and will be developed within the context of the consultation and engagement processes taking place as part of the Central Edinburgh Transformation project.'
The Community Council is pleased to have been involved in developing the George Street design principles, and whilst the proof of the pudding will be in the eating, we are hopeful that the broadening out of the next part of the design phase will create a blueprint which is more than just a compromise between various competing lobbies, which is how the Picardy Place design feels.
If that approach is correct for George Street, why isn't it being taken for Picardy Place, which is also in central Edinburgh and is crying out for a holistic and inclusive design approach? We appreciate that this will take time but the delay in deciding whether to go ahead with the tram has created a window of opportunity. We call on the Committee to utilise the proposed public engagement to consult on the option of ceasing work on the current design, going back to the drawing board and initiating a design process for the Picardy Place quarter similar to that now envisaged for George Street and its environs, in which the community council and other stakeholders can play their full part. This way, it is just possible that a design will emerge that will be worthy of the World Heritage site.
Last, even if the Committee is not able to adopt our preferred approach, we would ask them to ensure that, as part of the public engagement, Council officers come along to either (or both) our October 9 and November 13 meetings to explain the proposals and provide traffic counts and modelling with respect to the ban of the left hand turn into Broughton Street. We would also like to explore with Council officials whether there is scope for a separate larger public meeting in conjunction with the Picardy Place residents and other interested stakeholders.
Yours sincerely,
Ian Mowat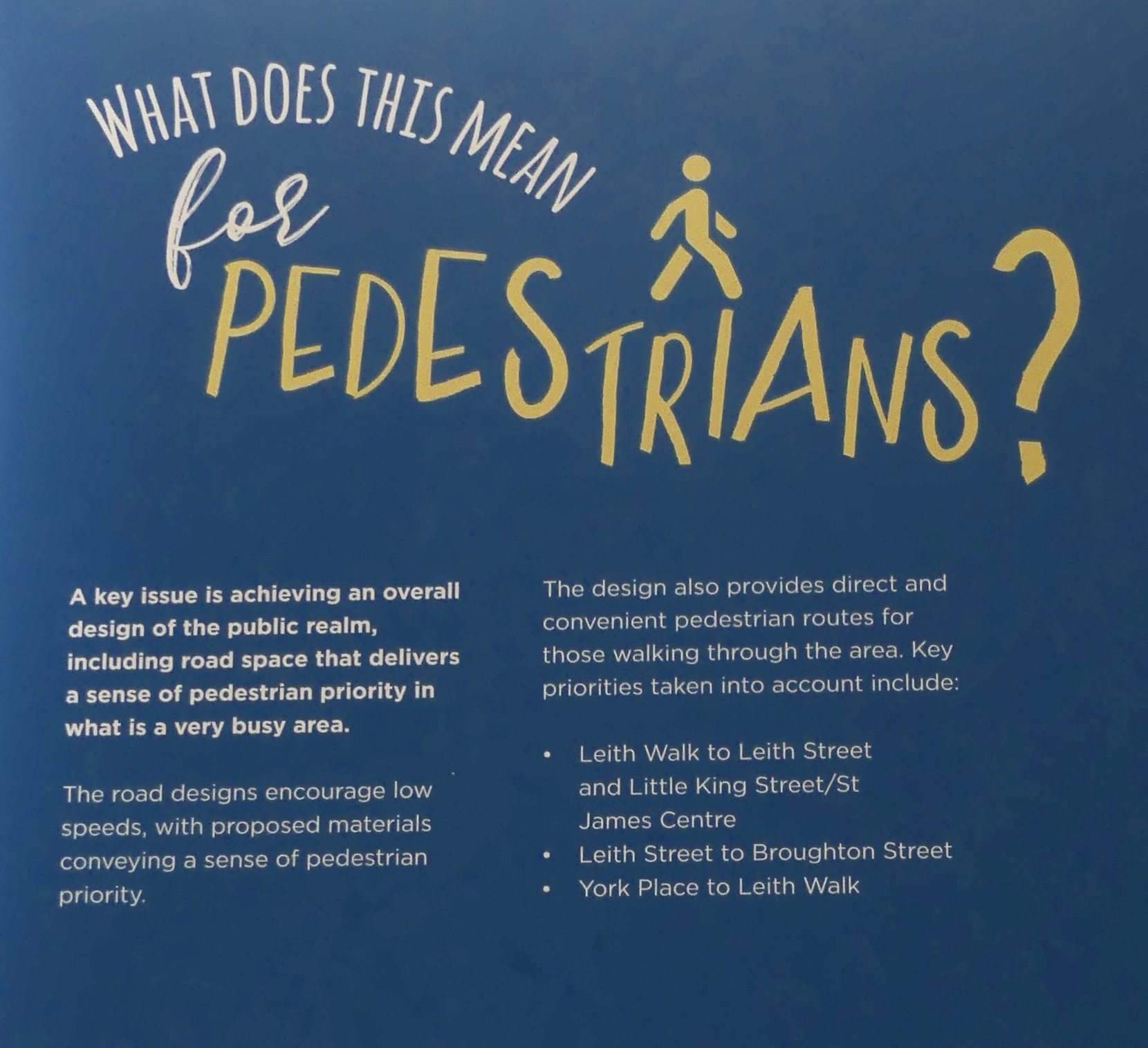 We have seen the future and it chokes
Meanwhile, for those who enjoy an international perspective on how to city centres unbearable, we offer an example from Lisbon.
The Google map detail below shows the Praça Marqués de Pombal, named – paradoxically – after the capital's most famous urban planner. You can see it in motion on our Facebook page here today.
If visiting it for yourself, we advise you to take a gas mask.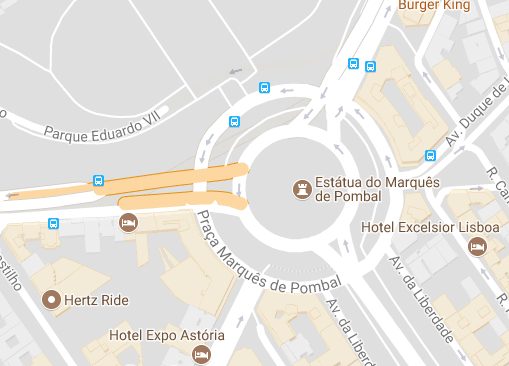 -----------
The following comments have been screenshot from our Facebook page here https://www.facebook.com/Broughton-Spurtle-116862745052401/